Sober Advice for Startups From Cisco's Co-Founder
by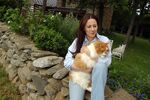 After Sandy Lerner and Len Bosack started Cisco Systems in 1984 to sell routers developed at Stanford, 70 or 80 venture capitalists passed on the company. While many had concerns about the technology, "a number of them said, you're never going to get funding with me in the mix as a founder," Lerner told an audience of entrepreneurs and aspiring founders at a Women 2.0 conference in New York today.
That sentiment may be familiar to women founding tech startups, who make up less than 7 percent of executives at venture-backed companies. That's a lower proportion than the Fortune 500, where women make up 16 percent of corporate officers and board members.
Lerner was fired by Cisco's board shortly after the company went public in 1990. (Bosack, her husband at the time, resigned at the same time.) She later founded a cosmetics company, Urban Decay, that she sold to LVMH. She now runs an organic farm in Virginia.
Within the world of venture capital, "I think that some things have changed but there are some fundamental things that have not changed," Lerner told the conference. Venture capitalists are mostly men. In particular, she said, many are "old salesmen who never worked with women." Some of Lerner's stories sound straight out of Mad Men. She recalled one executive meeting where a vice president announced that "he had just given his wife syphilis, and everybody laughed."
Lerner, who admitted she doesn't really use Facebook or Twitter, offered a sober perspective that's rarely heard at hype-filled tech conferences. She encouraged tech entrepreneurs to consider bootstrapping and retaining control of their companies rather than turning to outside investors. (Lerner and Bosack sold one-third of Cisco for $2.5 million. The company's market value is now $94 billion.)
She said many of today's Internet companies don't have unique technology and can be easily ripped off—as Lerner says happened to her in the makeup business, when competitors would imitate Urban Decay's products in a matter of weeks. "Social media is not technology. It's an information channel," she said. "There's a relatively small set of tools, and everyone's playing with the same ones."
Before it's here, it's on the Bloomberg Terminal.
LEARN MORE