App of the Day: A Global Map of Old Signs
Check out the unusual typography all around you.
By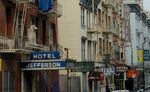 Old signs are indisputably one of the pleasant surprises of urban life. The streets of San Francisco's Tenderloin, for example, have an incredible concentration of old hotel signs that turn an otherwise unremarkable urban streetscape into a spectacle.
But beautiful signs can pop up anywhere from small towns to the busiest streets in the biggest cities. With Fontly, a free app designed to geo-tag examples of unusual typography, you can start exploring the world of vintage signage around you.
Check out the global map here and download the app to start contributing.