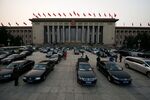 China's 18th Communist Party Congress ended on Nov. 14 in Beijing's cavernous Great Hall of the People with its 2,307 delegates electing a new 376-member Central Committee. All the committee members "have fine ethical and political quality, outstanding work performance and popular public support," the official Xinhua News Agency assured—a glowing statement of support perhaps aimed at reassuring a populace recently served a daily diet of reports about growing official graft.
Officially, the Central Committee will elect the next seven- or nine-member Standing Committee, as well as the larger 25-member Politburo, at its first meeting on the morning of Nov. 15. In reality, China's next generation of top leaders, including incoming party secretary Xi Jinping and executive vice premier Li Keqiang, already has been chosen through fierce horse-trading between the outgoing Standing Committee members and a few still-powerful retired leaders—former party secretary Jiang Zemin paramount among them. That process, which has been going on for months, culminates with Thursday's unveiling.
The week-long congress in blustery Beijing (held once every five years) concluded with few surprises. China amended its Party Constitution to give a larger role to the Scientific Outlook on Development, a theory coined by outgoing top leader Hu Jintao. It advocates more balanced development to address growing gaps between rich and poor and city vs. countryside, an excessive reliance on investment rather than individual consumption, and surging environmental problems. Hu's theory has been touted in recent years to support a massive push for low-cost housing for the urban poor, as well as efforts to improve the lives of rural residents through expanded health care and pension programs. The theory also serves as a rebuke to the growth-at-all-costs economic strategy unleashed by Deng Xiaoping more than three decades ago—and perhaps most of all, an effort to cement Hu's place in the Communist pantheon.
Scientific Development has now been approved "as part of the Party's guide for action," along with Marxism-Leninism, Mao Zedong Thought, Deng Xiaoping Theory, and retired leader Jiang Zemin's "Three Represents," said the official Xinhua News Agency on Nov. 14. "It is the crystallization of the collective wisdom of the Communist Party of China and a long-term guiding ideology the Party must adhere to," stated the resolution on the amendment that adds Hu's theory to the constitution.
"The congress called on all Party members to study the Scientific Outlook on Development more thoroughly, apply it more consciously and with greater determination," the resolution continued. That's a clear signal that at least for now, Hu has been successful in elevating his stature, even as he retires. Hu is expected not only to give up the party secretary position but also his role as head of the military—a change from the practice of his predecessor, Jiang, who kept the chairmanship of the central military commission for two years after relinquishing his party position. Hu will step down as president at next year's National People's Congress.
The Chinese constitution was also amended to "promote ecological progress"—already a serious concern that is now given even higher priority. China's cities suffer some of the world's most polluted environments and its citizens increasingly are taking to the streets and using the Internet to protest everything from new petrochemical projects to spewing chemical plants. China must "give high priority to making ecological progress" and "work hard to build a beautiful country" the resolution stated.
Before it's here, it's on the Bloomberg Terminal.
LEARN MORE