The Other 1 Percent
Steve Rohleder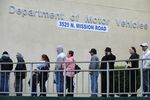 The election is over, but the nonstop political posturing over the debt is not. Our political leaders continue to frame the issue as two opposing visions: raise/lower taxes and cut/increase spending. These are not the only, or even the best, options available. A critical piece of the equation is not being discussed—productivity. It's the constant measure in the private sector, but it is missing in the public sector.
Productivity drives innovation, enables people to do more with less, and can help solve our critical public-sector funding gap. In fact, just a 1 percent annual increase in public-sector efficiency would close that gap. Productivity measures must become a central tenet of government and a policy priority to put us on a path to a financially sustainable public sector.
According to modeling that Accenture commissioned from Oxford Economics, the U.S. government—at the federal, state, and local levels—will need to spend an additional $940 billion (in real dollars, above current projections) by 2025 to fund all public services—everything from defense and public safety to health care, social security, and pensions. In other words, if government continues to deliver services in the same way, we'll need to spend an additional 4.4 percent of gross domestic product. Our rapidly aging population will drive that increase: One in five Americans will be 65 or older by 2025. Even if we balanced our FY13 budget and our $16.2 trillion debt was forgiven, we'd still have a nearly $1 trillion annual problem.
This research also shows that U.S. public-sector productivity, at only 0.3 percent per year on average since 2001, has lagged well behind the 1.5 percent productivity growth seen in the private sector. We know we can't make an "even comparison" between the two, as government has a mandate to provide public services. But we can do better.
We need a new approach. What's missing is a "whole of government" strategy: a comprehensive plan across all departments and agencies at every level. It starts with performance-based budgeting—a business model that allocates resources (money) based on outcomes. By having to compete for funds, based on results achieved, public agencies will (have to) innovate and embrace best practices from the private sector, such as shared services (especially IT) and department consolidations. To be fair, we have not seen any government achieve this type of comprehensive commitment, but we're confident this is the way forward.
There are many examples of efficiency improvements. Interforce collaboration at the U.S. Department of Defense has increased dramatically, and massive technology efforts are driving positive results. The U.S. Army streamlined business processes to create a single source for financial, property, cost management, and performance data at more than 200 locations worldwide. It's one of the largest ERP (enterprise resource planning) systems in the world, processing more than 1 million transactions a day and supporting a $140 billion general fund.
Unfortunately, on the civilian side of government the examples are few. Our unemployment benefits model has gone decades without change. Compare this with the successful German Virtual Labor Market, which electronically connects job seekers, employers, job portals, and employment agencies to help the unemployed get jobs. The system manages more than 50 million job opportunities per month, helping to decrease the unemployment rate, which is currently 5.5 percent.
We know small businesses are an engine of economic growth, but they still face incredible bureaucracy. Norway has adopted a more productive digital model, known as Altinn, which supports everything from regulatory filings to permits to filing tax returns. In fact, 88 percent of all Norwegian businesses use it, and the government expects the program to generate $1.6 billion in time and administrative cost savings from 2008 to 2026.
The hard truth is that our public sector is lagging. We have always been a nation that prides itself on producing so many incredibly productive, world-class companies. We must demand the same from our public sector. Given our current finances, it's the right path forward. Think about it as "the other 1 percent." The U.S. could save $995 billion in public-service expenditures by 2025 by increasing public-sector efficiency by just 1 percent a year—that's more than enough to close the projected funding gap.
Before it's here, it's on the Bloomberg Terminal.
LEARN MORE