Japan's Politicians Anger China Afresh
Japan's next prime minister may be one who riles China further
By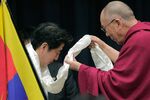 As in the U.S., so in Japan: During election seasons, politicians who are looking to show their toughness pick fights with China. Looking to capitalize on American frustration with Chinese policies that keep the yuan undervalued, Republican Mitt Romney said during the presidential campaign that he would label China a currency manipulator on Day One of a Romney administration.
There won't be a Romney administration, so we'll never know how China would have responded. There's a good chance, though, that we'll soon see how Chinese leaders deal with a China-basher much closer to home. Shinzo Abe, head of Japan's Liberal Democratic Party (LDP) and front-runner to become Japan's next prime minister, demonstrated how to irk the Chinese on Tuesday after meeting the Dalai Lama during a visit to Tokyo by the spiritual leader of Tibetan Buddhists.
Abe was briefly prime minister in 2006-2007, part of a revolving door of hapless leaders unable to end the country's decades-long economic malaise, and he is keen on getting another shot at the top job. Perhaps with that in mind, Abe went out of his way to show Japanese voters that he is ready to stand up to China. "I swear I will do everything in my power to change the situation in Tibet, where human rights are being suppressed," Bloomberg News reported Abe saying before a Dalai Lama speech that was attended by more than 100 members of Japan's parliament. "Tibet seeks freedom and democracy and we agree on those values."
Compare that with President Barack Obama's cautious moves during last year's low-profile, private meeting with the Dalai Lama at the White House. The two Nobel Peace Prize winners met not in the Oval Office but in the Map Room. The media weren't invited. Afterwards the White House made a point of reassuring China that the U.S. wasn't interested in fighting about Tibet.
"Reiterating the U.S. policy that Tibet is a part of the People's Republic of China and the United States does not support independence for Tibet, the President stressed that he encourages direct dialogue to resolve long-standing differences and that a dialogue that produces results would be positive for China and Tibetans," the White House said in a statement. "The President stressed the importance he attaches to building a U.S.-China cooperative partnership. The Dalai Lama stated that he is not seeking independence for Tibet and hopes that dialogue between his representatives and the Chinese government can soon resume."
In Japan, which is in the midst of a nasty dispute with China over uninhabited islands in the East China Sea, politicians from both the ruling party and the opposition seem to feel there's little reason to defer to Chinese feelings. Just last month, LDP leader Abe, as well as two cabinet members from the ruling Democratic Party of Japan, showed their willingness to risk China's ire by visiting the Yasukuni Shrine in Tokyo, which commemorates Japanese war dead, including convicted war criminals from World War II.
Those visits provoked the usual condemnations from China, but Abe's latest poke at the Chinese is probably a more serious matter. China is now in the midst of the Communist Party congress that is supposed to anoint the country's leaders for the next five years. With so much attention focused on the leadership transition, Tibetans opposed to Chinese rule have been demonstrating by setting themselves on fire: In the past week, seven Tibetans have self-immolated to protest Beijing's policies towards the region.
The Chinese government blames the Dalai Lama and says the Tibetan leader is in bed with Japanese who want those deserted islands in the East China Sea. One sign that Japan seeks to split China, according to a Chinese Foreign Ministry spokesman on Tuesday, is the Dalai Lama's use of Japan's name for the islands (the Senkaku), rather than China's preferred name (the Diaoyu). "To achieve his separatist goal, Dalai associated with the Japanese right-wing forces. Chinese people despise him for what he did," the official English-language newspaper the China Daily reported Foreign Ministry spokesman Hong Lei saying. "China firmly opposes the provision of platforms by any country or any person to Dalai's separatist activities in any form."
While provoking China didn't work for Romney, Beijing's leaders need to be more concerned about Abe. Japanese Prime Minister Yoshihiko Noda is deeply unpopular, with an approval rating in an Asahi newspaper poll of just 18 percent. Noda may call for new elections as early as January, according to a report in the Nikkei newspaper, and Abe stands a good chance of becoming the country's next leader.
That could mean more bad news for Japanese automakers and other companies suffering from falling sales in China. In the latest sign that the island dispute is taking its toll on Japanese companies, Nissan (7201:JP) said on Nov. 6 that falling China sales would lead to a 19 percent income reduction, wiping out $760 million.
Before it's here, it's on the Bloomberg Terminal.
LEARN MORE