Dump Trump? Macy's Says No
By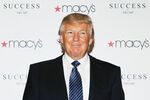 Angelo Carusone is a 30-year-old law school graduate, former debate champion, and director of online strategy for Media Matters. He also used to be @StopBeck on Twitter. Starting in 2009, Carusone led a campaign that pushed advertisers to drop their support of Glenn Beck, then a Fox News TV host. "It wasn't about political disagreements; it was about the willful lies," Carusone told the Huffington Post in 2010. Advertisers did drop their support and Beck eventually left Fox to start BlazeTV.
Carusone, who now tweets as @GoAngelo, has a new target: @realDonaldTrump. Carusone started an online petition on Oct. 24, calling on Macy's to sever its relationship with Trump. The retailer sells Trump suits, shirts, ties, cufflinks, and more. It also just launched a fragrance called Success by Trump.
"Trump's public conduct had been especially abominable" in the fall, says Carusone, as Trump continued to push his racially charged "birther" conspiracy and offered to donate $5 million to a charity of Barack Obama's choice on condition the president turn his college records and passport application over to Trump.
Trump's election night rants on Twitter sparked broad interest in Carusone's petition, which has collected 494,276 signatures. "Trump's brand is consequence-free bullying. That doesn't reflect well on Macy's. People expect more from Macy's," says Carusone. "I'm more interested in what they have to say and less interested in what Donald Trump says."
Trump isn't done talking, though. On Tuesday morning, he tweeted: "My fragrance–"Success"– is flying off the shelves @Macys. The perfect Christmas gift!" When I spoke with him last week, Trump also said, "We're one of the hottest brands at Macy's. One of the reasons it's so hot is that they're great ties." And the other is that "there is a large group of people who believe in what I say." Trump didn't respond to a request for comment on Tuesday.
Macy's had something to say, too, via e-mail from spokesman Jim Sluzewski: "Macy's marketing and merchandise offerings are not representative of any political position. Many of the individuals associated with products sold at Macy's—or at any retailer, for that matter—express personal opinions that are not related to the merchandise we sell or to the philosophies of our company."
Indeed, Trump is in Macy's new Christmas ads. The commercials feature images of Kris Kringle from the movie Miracle on 34th Street interacting with contemporary Macy's celebrities Justin Bieber, Tommy Hilfiger, Martha Stewart, Taylor Swift, and Donald Trump. As the New York Times recounts, the ads send up Trump's recent calls for proof of identity. In the spot, he asks Kringle: "What's with the get-up, Kris?" To which Kringle replies, "I'm Santa Claus." Trump's response: "Let me see for myself." Then he pulls Kringle's beard. The commercial ends with Kringle saying to Trump: "If I can win you over, there's still hope."
Macy's doesn't agree with that interpretation. "A longtime focus of Macy's holiday advertising has been to celebrate the season's spirit of generosity and goodwill through our ongoing 'Believe' campaign, and that is the sole message of our holiday television commercials," Sluzewski stated in the e-mail.
Before it's here, it's on the Bloomberg Terminal.
LEARN MORE