B-Schools With Career Services That Rock—Maybe
Louis Lavelle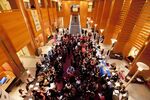 One of the more perplexing things about business school career services is that student perceptions of how good a job their school is doing often bear no relation to the school's real-world performance at placing students in high-paying jobs.
Consider the two lists below. In the survey of recent MBA graduates that we conducted for our 2012 Best B-School ranking, which will be published on Nov. 15, we asked survey recipients to grade their school's performance on career services. Those rated highest don't include such schools as Emory's Goizueta Business School, which had a near-perfect placement rate of 98 percent this year, or Stanford, where a $125,000 job offer was merely average.
Instead, they include schools with career-services performances that at best are slightly above average—and at worst, disappointing. Among all schools that participated in this year's ranking, average placement was 86.5 percent and the average median starting salary was $93,967; all five schools on the "best" list beat those numbers handily. But among U.S. schools ranked in the top 30 this year, placement averaged 92.2 percent and salary $104,683; three schools on the "best" list were average or below on placement, including the University of Maryland's Smith School of Business (89 percent), while four of the five were below average on pay including Smith ($95,000).
The "worst" list is no better. It doesn't include the University of Southern California's Marshall School of Business, where only 77 percent of graduates had job offers within three months of graduation, or Florida International University, where the median starting salary was $50,000—less than many college business students can expect at graduation, without benefit of an advanced degree. It does include schools that, compared to those two, aren't doing badly. Of the five schools, two have above-average placement performances and three have median starting salaries north of $80,000. McGill's Desautels Faculty of Management has both: placement at 95 percent and a median starting salary of $86,550.
Why the discrepancy? One possibility is that students, when answering our survey, consider career services to be more than just placement and salaries. In fact, the services include much more, from organizing career events on campus to connecting students with alumni who work in their targeted industries and providing assistance on job applications and résumés. Students who rate their school's career services highly—notwithstanding mediocre success in the job market—are effectively giving them an "A" for effort. So if you're looking for schools where you'll get lots of help in your job search, consider those on our "best" list—you may not land your dream job, but it won't be for lack of trying.

Before it's here, it's on the Bloomberg Terminal.
LEARN MORE