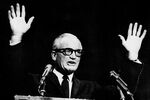 CC Goldwater's critique of the GOP, one her grandfather began to articulate late in his life as well, is a libertarian one. "He was very vocal about his fear of people like the late Jerry Falwell and the religious right taking over the party," she said. "He was concerned about the change in civil liberties and women's rights." In fact, Barry Goldwater spent much of his political retirement as a thorn in the side of the mainstream GOP. He said the party had been taken over by "kooks" and "extremists"; he called for gays to be allowed to serve in the military, saying, "You don't need to be straight to fight and die for your country. You just need to shoot straight."
—Molly Ball, "How Barry Goldwater's Granddaughter Ended Up at the Democratic Convention," the Atlantic, September 12, 2012
Pundits will analyze the way forward for the Republican Party. There is an election just shy of 24 months from now and the debris of 2012 must be cleared.
The real question, for all, is do the next months of GOP navel-gazing prepare for 2016 or … 2020?
The Defeated, and for that matter the Victorious, should study what Republicans did after 1964. (Johnson 486, Goldwater 52 compared to Obama 332, Romney 206.) What decision tree took Republicans to 1980? How have they descended in the recent years? See Chris Cillizza here.
One trenchant idea would be to consider that after this edge-of AuH2Uh-Oh moment, the GOP should consider the kooks and extremists. Discuss.
Before it's here, it's on the Bloomberg Terminal.
LEARN MORE