The Alternative Intelligent Cliff
By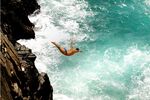 The alternative fiscal scenario incorporates the assumptions that all expiring tax provisions (other than the payroll tax reduction), including those that expired at the end of December 2011, are instead extended; that the alternative minimum tax is indexed for inflation after 2011 (starting at the 2011 exemption amount); that Medicare's payment rates for physicians' services are held constant at their current level; and that the automatic enforcement procedures specified by the Budget Control Act of 2011 do not take effect. Outlays under that scenario also include the incremental interest costs associated with projected additional borrowing.
—Components of Federal Spending in 2020 Under the Alternative Fiscal Scenario, Compared with Their Averages Since 1972, Choices for Deficit Reduction, Congressional Budget Office, November 8, 2012
Prepare for record hot air.
Anyone who tells you the debate over the so-called (and I mean so-called) fiscal cliff should be opaque … is lying.
Douglas Elmendorf and the 235 (Two Hundred Thirty-Five! Are you kidding me? The best use of tax dollars known to mankind) bodies of the CBO provide page after page of blinding non-mathy clarity on our debt and deficit.
There are no excuses. Get smarter. Start with a given executive summary. Move to reading a given chart, and read the damn footnotes. Read an entire article, carefully.
Friends! Americans! Politicians!
Lose your ignorance of all things Budget.
America begs you to get smarter before opening mouth. Informed awaits you, far below. Learn by leaping off the alternative intelligent cliff. Discuss.