Skills Gap: No Big Deal, If ...
Harold L. Sirkin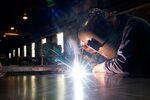 The much talked-about "skills gap" in the U.S. is more limited than many people think and shouldn't prevent, or even stall, the U.S. manufacturing renaissance, at least for a while.
More severe shortages are likely to develop, however. We need to take steps now to prevent them and make sure that enough new talent enters the right trades.
According to the Boston Consulting Group's current estimates, the U.S. today is short about 80,000 to 100,000 highly skilled manufacturing workers. Occupations in shortest supply are welders, machinists, and industrial machinery mechanics.
The shortage represents less than 1 percent of America's 11.5 million manufacturing workers and less than 8 percent of its highly skilled manufacturing workers. What's more, only seven states—six of which are in the bottom quartile of U.S. state manufacturing output—show significant or severe skills gaps. And only five of America's 50 largest manufacturing centers (Baton Rouge, Charlotte, Miami, San Antonio, and Wichita) appear to have significant or severe skills gaps.
Although the current gap appears to be smaller than many people believe, it could become a serious problem as aging baby boomers in key trades retire and as ramped-up manufacturing—from "reshoring" and increased exports—boosts labor demand.
According to government statistics, the average high-skilled manufacturing worker in the U.S. is 56 years old. If manufacturing continues to grow as we project, and if the baby boomers continue to retire at present rates, we could face a shortage of 875,000 by 2020. That would be a major problem for our economy. We'd need to import workers for the highest-paid manufacturing jobs, rather than having our citizens benefit.
To forestall this, we need to make manufacturing more attractive as a career, and increase our investments in training and skills development.
As I've suggested in the past, one way to increase the attractiveness of manufacturing careers might be by creating a new type of college or degree program that combines liberal arts with industrial training. This would create well-educated students capable of earning a good wage. We could certainly use such a program right now, with an estimated 50 percent of recent college graduates either unemployed or working at low-wage jobs. They could use a trade.
In truth, however, most high-skill manufacturing jobs require only a high school education and on-the-job training. So perhaps our efforts need to start sooner. As another BCG survey showed in June, only 16 percent of respondent companies recruit in high schools.
As my colleague Justin Rose has commented, the simple act of letting young people know that they're wanted—and needed—can make all the difference in the world. "With more investment in recruiting and more in-house training, the availability of manufacturing talent could actually become a major competitive advantage for the U.S."
Some parts of the country already understand this. In Georgia, for example, a program called Quick Start provides companies with customized workforce training and retraining, free of charge, in partnership with the state's technical colleges. Here in Chicago, the Austin Polytechnical Academy teaches students all aspects of industry and has its own manufacturing training center. Similar programs can be found elsewhere.
The question we need to ask bright young people today is this: Would they be better off with a college degree in mass communication, "poli sci," or sociology that gets them a job as a retail clerk or waiting tables, or would they be better off with a real skill that qualifies them for a high-paying manufacturing job?