From Governor Bernanke to Governor Shirakawa
by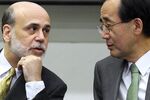 Bank of Japan Governor Masaaki Shirakawa said a 1 percent inflation goal introduced in February is still distant, underscoring the central bank's struggle to reverse a decade of deflation.
—James Mayger, "Shirakawa Vows Aggressive Easing as Price Goal Still Out of View," Bloomberg News, Nov. 12, 2012
I will suggest that the BOJ consider adopting a price-level target, which would imply a period of reflation to offset the effects on prices of the recent period of deflation.
—Governor Ben S. Bernanke, "Some Thoughts on Monetary Policy in Japan," Before the Japan Society of Monetary Economics, Tokyo, the Federal Reserve Board, May 31, 2003
Some 10 years on, the Deflation Cliff is still with Japan.
As we consider our spent monetary ammunition and fiscal disarray, we should and must study the Japanese experiment.
It is a near total failure.
Fortunately, Governor—now Chairman—Bernanke has done the heavy lifting. I consider his May 2003 speech to be classic, and if I were teaching Macro 143, it would be assigned as a word-by-word read on pain of death. There will be a quiz.
Japan is dying. It is a slow death, with a medical tipping point of external surplus to outright deficit wrapped around original demographics.
I do not suggest but few similarities between our two "models," but require a working understanding of years of mismanagement so that we can avoid a fate worse than near-deflation.
We are not Japan.
But, and it is an immediate but, we should be familiar with the divide and distance from Governor Bernanke to Governor Shirakawa. Discuss.
Before it's here, it's on the Bloomberg Terminal.
LEARN MORE