B-School Startups: Fulfilling a Dream With Ashesi University
Alison Damast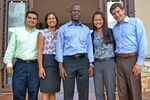 Editor's Note: This story is part of Bloomberg Businessweek's occasional series on the world of startups. The series focuses on MBAs and undergraduate business students who developed their ideas or launched their businesses while still in school, as well as the many ways their schools helped them get the new ventures off the ground.
Patrick Awuah was taking the popular International Business Development class at UC Berkeley's Haas School of Business in 1998 when he noticed a glaring omission in the list of projects students could choose in developing countries. He raised his hand and asked the professor why there were no student consulting projects in Africa. She told him that the school didn't have a good network in the continent. The explanation didn't satisfy Awuah, a native of Ghana. "Africa seemed distant to them," says Awuah, who earned his MBA from Haas in 1999. "I raised my hand and said, 'You actually do have a network in Africa and you are staring at one such person.'"
Awuah explained he had come to Haas with the intention of founding a private, secular liberal arts college in his home country, a dream he'd had since his first son was born in 1995. He proposed his idea for the college as a class project. It was approved, and that summer he and three classmates traveled to Ghana to conduct a three-week feasibility study on whether there was demand for such a school in a country where rote learning and large public universities were the norm.
That study served as the launchpad for Ashesi University (ashesi means "beginnings" in the African language Twi). When Awuah opened the school in 2002, he started with a single classroom and a computer lab in a rented building. Much has changed since then. The school recently celebrated its 10th anniversary and is regarded as one of the premier universities in Ghana, boasting 420 graduates and nearly 600 students enrolled at the new state-of-the-art, 100-acre campus near the capital city of Accra.
Ashesi's liberal arts approach is unusual in Ghana, where only 5 percent of the country's college-aged students attend a university. It is modeled closely after the curriculum at Swarthmore College in Pennsylvania, where Awuah earned his undergraduate degree. Ashesi students can major in computer science, business management, or management information systems, and plans are in the works to add several engineering majors in the next two to three years. The business coursework is "strongly influenced" by the Haas MBA curriculum, Awuah says.
Building a university from scratch was no easy feat, and from the start, Haas played an important role in helping Awuah make his vision a reality. He drew heavily on lessons learned in classes on organizational behavior and nonprofit management while forming his management team, and he even managed to recruit one of his classmates from the International Business Development class, Nina Marini, to help get the project off the ground.
Haas faculty played an important role, as well. Awuah asked several professors to join his advisory council, including Jennifer Chatman, who taught Awuah management at Haas. The council encouraged him to create a board and establish a foundation based in the U.S. to help raise money for the school. In his first year, he raised $1 million, and has since raised $28 million in gifts and pledges.
Members of the Haas faculty have also provided a great deal of practical advice to Awuah. Chatman helped him with the curriculum, offered advice on hiring faculty, and even interviewed some potential instructors over the phone. From the start, Chatman has been impressed with Awuah's unrelenting drive, tenacity, and determination to provide a better educational option for young people in Ghana. "Anyone would have looked at the odds of being able to build a successful university in Ghana in the time frame he set out and said, 'You know, I'm not doing that. You've got to be crazy,'" she says. "What he has done is just mind-boggling to me. He has just pushed forward and been relentless."
As the university has matured and thrived, Awuah has kept up his connection with the Haas community, frequently collaborating with current MBA students in the school's International Business Development program. They've come to Ghana nearly every year to give him advice on business management projects for the university, including branding strategy, strategic decisions about the next steps for the university, and how to roll out new academic programs.
This past summer, a team of Haas students visited Ashesi and gave Awuah advice on succession planning, helping him prepare for a time when he may no longer be as directly engaged in the day-to-day running of the school.
Awuah's work has not gone unrecognized by his alma mater. Haas awarded him its Leading Through Innovation award at a gala on Nov. 2, honoring his accomplishments over the past decade and how he has served as a role model for a new generation of Haas students.
For his part, Awuah says he is proud that he has been able to help Haas connect on a deeper level with Africa, in a manner that would have been unimaginable when he was an MBA student. "In a way, Haas is impacting Africa through me," he says. "And Ashesi is going to impact Africa through my students, who are going through a curriculum that is very similar to what I went through at Haas and Swarthmore. There is this ripple effect that is ongoing."