Stanford's Gift to the World: Alumni's Vast Economic Impact
Alison Damast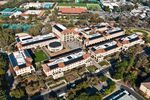 Stanford University's graduates are well known for their legendary entrepreneurial success. But up till now, it has been hard to measure just how large an economic footprint these alumni have left behind. A new study out of Stanford University released last month shows that it is vaster than perhaps anyone imagined, with 39,900 active for-profit companies that can trace their beginnings back to Stanford. In addition to founding businesses, Stanford graduates have also created some 30,000 nonprofit organizations.
In fact, there are so many businesses with Stanford roots that if they formed an independent country, their combined revenues of $2.7 trillion annually would make it the 10th largest economy in the world, generating an estimated 5.4 million jobs since the 1930s, according to the study, which was conducted by Charles Eesley, an assistant professor in management science and engineering at Stanford's School of Engineering, and William Miller, an emeritus professor of public and private management at the Stanford Graduate School of Business.
In 2011, Eesley sent out an e-mail survey to 142,496 Stanford alumni, current faculty, and selected research staff. He received responses from 27,780 individuals. About 23 percent of survey recipients with connections to the business school responded. The study is one of the largest surveys of its kind ever conducted.
The strong entrepreneurial community at Stanford over the years played an important role in the study's findings and attracted many future business founders to the school's doors, Miller says. In the past decade, 55 percent of those who became entrepreneurs said they chose to study at Stanford specifically because of its entrepreneurial environment, the study found.  About 25 percent of technical innovators—people who created new products, production processes, or business models—said they took an entrepreneurship class at Stanford. In addition, 60 percent of "quick founders," or those who received venture capital funding within three years, took a class in entrepreneurship.
The university first began offering classes in small business and entrepreneurship after World War II, and many professors informally mentored students interested in starting their own companies. Today, the university's approach has become more sophisticated, with the business school playing an important role in that effort, says Miller.
For example, 16.8 percent of respondents, or 1,825 alumni, said they took a course at the business school. About 6.3 percent of alumni entrepreneurs, or about 684, said they took a class with Professor H. Irving Grousbeck, who has been teaching entrepreneurship at the school since 1985. Grousbeck also runs the school's popular Center for Entrepreneurial Studies, which connects up-and-coming entrepreneurs with the larger Silicon Valley community and helps them find mentorship opportunities and counseling services.
Other popular offerings in the business school include classes like "Creating a Startup," a two-quarter class that's team-taught by Stanford faculty, serial entrepreneurs in Silicon Valley, and local venture capitalists. Business plan competitions hosted by the business school also remain popular, Miller says.
"The business school has been pretty active in helping students who want to be entrepreneurs," says Miller. "The more formal teaching of entrepreneurship started in the late 1970s and early 1980s and grew very dramatically in the 1990s because of demand for it and interest on the part of the students."
The Stanford study was modeled after a similar study Eesley helped conduct when he was a doctoral student at MIT, which measured MIT's economic impact. By the end of 2006, that study found that living MIT alumni had created 25,800 still-active companies, which employed 3.3 million people and produced annual global revenues of nearly $2 trillion, the school said.
The University of Chicago's Booth School of Business also has been tracking the economic impact of its alumni entrepreneurs. Since 1996, 65 companies connected to the university have raised more than $180 million in funding and created nearly 1,000 jobs, according to a 2011 press release from the school. In addition, 11 companies started by Booth students received more than $85 million in venture capital funding in the 2010-11 school year, the school said.
Miller says he is encouraged by the findings of the Stanford study and expects entrepreneurship will continue to thrive, given all the programs and courses in place. "My guess is that we're probably at the peak of activity now," he says. "But that's a pretty high level, and we should be able to maintain that level of activity."
Join the discussion on the Bloomberg Businessweek Business School Forum, visit us on Facebook, and follow @BWbschools on Twitter.