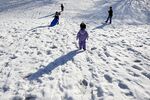 The Weather Channel of Atlanta, Georgia released a statement early on Wednesday stating that Athena, the first name on its newly released 2012-2013 winter storm names list, would be given to the early-season Nor'easter taking shape on the East Coast. Moments after they starting referring to the Nor'easter as Athena, the National Weather Service Eastern Region Headquarters out of Bohemia, NY released a statement asking their forecasters to refrain from using the name. The statement read, "TWC has named the Nor'easter 'Athena.' The NWS does not use named winter storms in our products. Please refrain from using the term Athena in any of our products."
—Brent McGrady, "Weather Channel Naming System Backfires when NWS Rejects Athena," examiner.com, Nov. 7, 2012
I never watch the Weather Channel. The legitimate reports—I believe at the 8s—are surrounded by stunning blather.
For sure, TWC provides a huge service during real crises, as witnessed by its effort with Hurricane Sandy.
I bumped into the channel the other night and was stunned at its audacity in naming "winter storms."
Exactly how desperate are they? The legit NOAA 8s and the contrived blather are financed by ads for fossils. I presume TWC needs to up the ad revenue by contriving a "crisis" so I'll buy more Depends.
They insult the serious science of meteorology. They insult a society steeped in four-season America. They insult—and make less confident—children who pick up the manufactured "crisis" mentality.
They called it "Winter Storm Athena" and already inflict "Winter Storm Brutus." The Weather Channel has become a joke and that is sad, given the good work of their PhDs and staff.
The Athena day was nothing but Partly November.
TWC, Stop it now. Or move to Winter Storm Syracuse where it is always Partly February. Discuss.
Before it's here, it's on the Bloomberg Terminal.
LEARN MORE