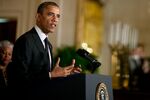 President Barack Obama made clear today that he plans to take a tough line in budget negotiations with congressional Republicans. That pretty much assures that there will be no deal soon and we'll be hearing about the "fiscal cliff" of automatic spending cuts and scheduled tax hikes long past Jan. 1.
The fiscal cliff is scheduled to be reached at the start of 2013. But the most likely outcome now is that the parties will come up with a patch—a temporary agreement to postpone the effects of the fiscal cliff while negotiations continue. That will keep the economy from suffering an immediate blow, but it will also mean continued uncertainty, which discourages consumers from spending and businesses from investing.
Tired of hearing about the fiscal cliff now? Wait until next summer, when it could still be a topic of daily conversation inside the Beltway. On the eve of the election, Representative James Clyburn of South Carolina, the third-ranking House Democrat, told Fox News Channel's Neil Cavuto that a patch could last "up to, maybe, around a year."
In a speech in the White House East Room, Obama said the election showed that "a majority of Americans agree with my approach."
Obama wants to end the Bush tax cuts on household income above $200,000 a year (individuals) or $250,000 a year (couples). That will affect just 2 percent of Americans. Republicans want to preserve all of the Bush tax cuts, including for the highest-income Americans. In a gambit to put the Republicans in a politically difficult position, Obama called on Congress to extend the Bush tax cuts for people earning under $250,000 a year while negotiations continue on the top brackets. "We shouldn't need long negotiations or drama," he said.
House Speaker John Boehner said Nov. 8 that GOP leaders were open to increasing revenue, but by closing deductions and credits, not by raising tax rates, which they continue to oppose. Boehner also said any revenue increase should come as part of a package that overhauls entitlement spending and the tax code.
Obama said he was inviting congressional leaders of both parties to the White House next week for talks.
Before it's here, it's on the Bloomberg Terminal.
LEARN MORE