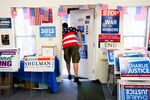 What's up with Florida? Mitt Romney conceded the state on Thursday. But as of now, the Florida vote count is still dragging on. (Update, Nov. 10, 1:10 p.m. ET: The Associated Press just declared President Obama the winner in Flordia, with 73,858 votes separating the candidates, according to the state.) 
That's on top of earlier reports of people waiting more than six hours in line during the state's early voting. One overwhelmed precinct just up and closed its doors in the middle of the day Sunday, apparently because the mayor and the elections supervisor didn't see eye to eye on whether it should have opened in the first place. And on election night people were still waiting to cast a ballot past midnight, long after the election had been called for the president.
Full disclosure: As a Floridian, I have a particular interest in this subject. As of this morning, according to the ballot tracker function on my county's website, my absentee ballot still hadn't been counted. But I can't be the only person wondering why the Sunshine State's election apparatus appears to be breaking down.
With 20,000 ballots in Miami-Dade County still to count, Miami Mayor Carlos Gimenez on Wednesday offered an unusual explanation for the problems. He chalked them up to "unprecedented volume."
That's not very reassuring and makes little sense. Officials have a reasonable idea of how many people will vote based on tallies from prior years. Officials have also handled "volume" issues before: The 64.9 percent of Florida voters who voted in 2008 set a record for turnout. And the process went a lot more smoothly than it did this year.
Plus, as a few Florida journalists have pointed out, it was the state legislature and Governor Rick Scott that cut the number of days for early voting this year—and that appears to be one of the things that crippled the state's polling places. The lawmakers cut capacity and didn't come up with a Plan B. Even when the reports of excessively long lines began to surface during the eight days of early voting, Gimenez refused to add more hours, according to the Miami Herald.
Gimenez has since changed his mind and called on Scott to re-extend the state's early voting—for future elections.
Before it's here, it's on the Bloomberg Terminal.
LEARN MORE