Eric Schmidt: I'm Not Joining the Obama Administration
By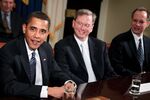 Google Chairman and former Chief Executive Officer Eric Schmidt would like to end speculation that he's in the running for a Cabinet job in the second Obama administration.
Schmidt's name has been specifically raised in connection with an opening at the Department of Commerce since the resignation of Secretary John Bryson in June. But in a conversation at Google's offices in Mountain View, Calif., Schmidt said that while he serves on the president's Council of Advisors on Science and Technology, he is not interested in formally joining the administration.
"How can I be clear?" said Schmidt, who has previously denied interest. "I have the same answer. I do not want to be a federal government employee. Google is my home."
Before it's here, it's on the Bloomberg Terminal.
LEARN MORE