Chef Marc Murphy's Chicken Chili Office Bag Lunch
By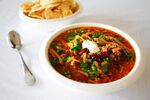 People love chili, says Chopped judge Marc Murphy, owner of five restaurants in New York City. "It goes well on top of nachos. It goes well on top of burgers," he says. "It's just the perfect garnish and also the perfect dish." Most cooks prepare it with beef, but at Murphy's fancy Ditch Plains surf shacks, he uses chicken—and not for health reasons. "It's not lighter, but the perception is, it is," says Murphy, who uses dark meat. "White meat doesn't have enough flavor." Murphy shares his hearty chicken chili recipe with Bloomberg Businessweek.
Ingredients
Serves 4
2 tbs olive oil
2 lb. ground chicken, dark meat
3 garlic cloves, finely chopped
1 jalapeño, finely chopped
1 medium red onion, diced
1 medium Spanish onion, diced
1 medium green bell pepper, diced
16 oz. canned stewed tomatoes
16 oz. canned kidney beans
1 tbs ground black pepper
2 tbs chili powder
1 tbs cumin
1 bay leaf
2 tsp hot sauce (or to taste)
1 can stout beer
16 oz. chicken stock/broth
1/3 cup chopped cilantro
Instructions
In a large, heavy-bottomed sauce pot, cook ground chicken on medium heat until cooked through. Remove from pot and reserve. Add onions, peppers, garlic and sauté until translucent. Add all the spices and then add cooked ground chicken back to pot. Sauté together to evenly distribute flavors. Add stewed tomato, kidney beans, chicken stock, and beer to pot. Simmer for 20 minutes, then add hot sauce and season chili to liking. Once finished, remove from heat. Stir in cilantro and serve over rice—or with cheddar cheese, sour cream, and tortilla chips.