Right or Wrong, Gallup Always Wins
Its election polling business gets the headlines, while corporate research brings in the dough
By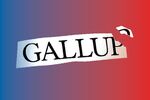 In the weeks before the 2012 election, Gallup was an outlier among political pollsters. It showed an electorate leaning Romney, when most others showed a dead heat. The discrepancy sparked controversy among poll watchers. By the election's eve, Gallup fell back in line with the consensus, narrowly underestimating President Barack Obama's support. But for Gallup, the miss hardly matters: Its name was in the papers for weeks leading up to the election. And that's the point.
Tracking the presidential race every four years is the most public work Gallup does, and it keeps the company's storied brand in the spotlight from the primaries through the first Tuesday in November. But conducting far less glamorous research that helps businesses hone their operations—much like a management consultant—is how Gallup makes money. Corporations and organizations pay the firm to do everything from querying customers about new services they'd like to quizzing employees about how happy they are with their benefits. The flashier business of tracking the road to the Oval Office is a flyspeck in the company's operations and means next to nothing to its bottom line. "It's a small part of what we do overall," says Frank Newport, Gallup Poll editor-in-chief.
In 1935, George Gallup was head of market research at the advertising firm Young & Rubicam in New York when he opened a small polling shop on his own time. The next year he boldly forecast that Franklin Delano Roosevelt would be reelected. The Literary Digest, which ran the biggest and best-known poll at the time, predicted that Roosevelt's Republican challenger, Alf Landon, would prevail. Gallup, who published the results of his political surveys in a column in the Washington Post, said the Digest had a skewed sample of right-leaning magazine subscribers, car owners, and phone customers. "His political surveys kept finding that the Literary Digest was wrong," says Susan Ohmer, a professor of film and television at the University of Notre Dame and author of George Gallup in Hollywood. "And he had the guts to say so publicly. He became famous overnight." In 1948, Gallup gave up his day job at Rubicam, put his name on his polling business, and made it his life's work. The company continues its much-watched political tracking almost three decades after his death.
"The Gallup Poll is our legacy gift from Dr. Gallup to the United States' leaders and the world," says Chief Executive Officer Jim Clifton. The opinion surveys, he says, cost the company about $10 million a year and bring in scant revenue. That's not because they can't find political customers. Clifton says the company receives requests for "hundreds of projects" but turns them all down. "We don't work for Democrats or Republicans or any special-interest groups," he says.
Gallup can afford to lose money on public opinion work because it takes in "high nine figures in revenue," Clifton says, consulting for about 200 clients, many of them Fortune 500 companies. A privately held company with about 2,000 employees, Gallup occupies an unusual niche between market research and strategic consulting. From centers in Nebraska and Texas, as well as smaller offices in 40 cities around the world, its hundreds of interviewers make thousands of calls every day to ask questions about everything from voting habits and employment status to personality traits and customer satisfaction. Gallup's statisticians crunch the numbers; their daily political and public opinion results are made available free of charge, burnishing the brand. But most of the interviewing is specifically designed to help give clients advice about getting the most out of employees and serving customers better. The company also has its own publishing imprint that cranks out management titles such as StrengthsFinder 2.0.
Gallup, says Clifton, is not to be confused with market researchers like Nielsen or SymphonyIRI Group that help companies find out their market share in "hubcaps or candy bars." Its competitors, he says, are consultants such as McKinsey and Bain & Co. Gallup, however, doesn't give advice about mergers and acquisitions; instead, it focuses on employees and customers. Gallup tracks all of Wells Fargo's 270,000 employees, for instance, with a regular questionnaire to assess aptitude and satisfaction and surveys millions of the bank's customers to see how it can capture more business.
Clifton became CEO of Gallup in 1988, four years after its founder died, when Clifton's family company, Selection Research (SRI), bought it for an undisclosed price from Gallup's sons. According to the New York Times report on the sale, SRI had $45 million in revenue at the time, compared with Gallup's $10 million. "The company [Gallup] was losing money," says Jack Honomichl, who publishes an annual list of the top 50 market-research firms and covered the sale for Advertising Age. SRI, which specialized in personnel testing, bought the firm, Honomichl says, "to get ahold of the Gallup name." SRI's own market-research wing was having trouble getting people to stay on the phone. "If you call and say you're SRI, to be honest about it, they hang up on us, and it ruins the quality of the data," Clifton told the New York Times then. Things have changed. "We definitely get higher cooperation rates than anybody in the country," he now says. "That Gallup Poll brand gives us a little cachet. Sort of a Tiffany's thing, rather than a Wal-Mart."
BOTTOM LINE -
The bottom line: Gallup's call on the presidential vote missed narrowly. Its lesser-known consulting business will still benefit from all the publicity.
Before it's here, it's on the Bloomberg Terminal.
LEARN MORE