John Boehner's Legacy Hangs From the Fiscal Cliff
By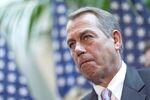 House Speaker John Boehner (R-Ohio) has now come out publicly with something he'd told Obama administration officials in private last summer: To avert the fiscal cliff, he's willing to find a way for the government to raise more money. Since 2011, conservatives in Boehner's House caucus have been unwilling to do just that. The stance has frustrated moderate Republicans and some traditional allies of the Republican Party, namely, a group of chief executive officers associated with the Campaign to Fix the Debt. Boehner has taken note, saying on Wednesday: "Mr. President, We want you to succeed. … Let's challenge ourselves to find the common ground that has eluded us."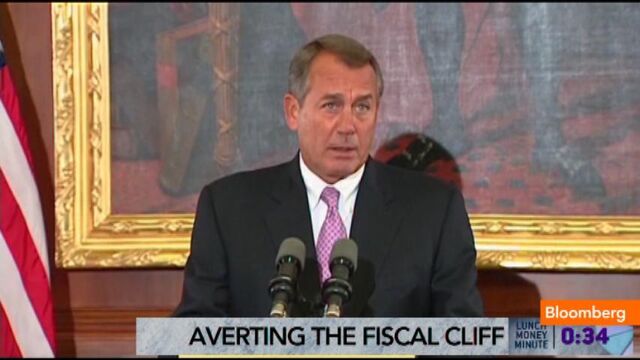 Moderate Republicans are egging him on: "The notion that it is inappropriate or wrong to compromise, as a matter of political dogma, is not reality-based," says Steve Schmidt, the Republican strategist who advised John McCain in the 2008 presidential race. "The leadership should be based in reality. The goal isn't to never compromise; the goal is to get the best deal you can get."
Boehner said on Wednesday that Republicans would accede to a "fairer, cleaner, simpler tax code" in exchange for raising additional revenue. The implication is that he wants to close loopholes. There was no mention of either hiking, or lowering, rates. In recent months, many Republicans (including Mitt Romney) have said that every dollar in revenue generated by closing a loophole must be matched by savings from cutting rates. Steve Bell, senior director of economic policy at the Washington-based Bipartisan Policy Center, points out that Boehner didn't slap that binding condition on things yesterday.
And Bell says some large—popular—tax deductions are already being targeted behind closed doors, including the one for mortgage interest, which costs the government about $100 billion a year. "Anyone who thinks the mortgage interest deduction is not going to be on the table during a discussion of tax reform is kidding themselves," says Bell. (The GOP quietly took protection for the mortgage interest deduction out of its party platform this year.) A further candidate for reform is the $54 billion exemption for state and local taxes.
Where Boehner draws his red lines this time around will be the subject of much chatter in the coming days. The GOP's Tea Party-backed candidates lost races in a number of states on Election Day, but 51 members of that tax-averse caucus will reclaim their seats in January. And as Columbia University political scientist Brigitte Nacos explained to me, many aren't planning to change their approach. Schmidt says Boehner should heed the lessons of the election and hasten to come up with a deal. "The debt ceiling debacle," he adds, "was a politically induced economic crisis. For people who are pragmatic and serious, like John Boehner, they understand that." Boehner has long envisioned himself a reformer. Now that hoped-for legacy is riding on how he handles the fiscal cliff.
Before it's here, it's on the Bloomberg Terminal.
LEARN MORE