Voting Made Easier: Turning Mail Boxes Into Ballot Boxes
Oregon and Washington eliminated Election Day chaos by pioneering an all-mail voting system
By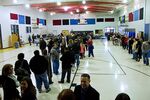 When President Obama took to the stage last night after being reelected, he sent a special shout-out to voters who'd waited in long lines—some as long as three hours—to cast their ballots. As a side note, he added, "By the way, we have to fix that."
Two states already have. Oregon eliminated long Election Day lines in 1998 when it pioneered a vote-by-mail system through a citizen's initiative. Washington followed suit in 2011.
Reporter Hamish McKenzie, who writes for the tech blog PandoDaily, praised Washington's process in a recent post and summarizes the procedure as follows:
1. Mail in your ballot or put it in a drop box by voting day. You can check if it has been counted at the ballot tracker website.
2. Your ballot is sorted by a Pitney-Bowes high-speed sorting machine.
3. Trained specialists check the signature on your envelope against the signature on your file.
4. A worker opens your ballot and checks for marks that may hamper the scanning process.
5. If a ballot is marked for review, it goes to teams of two who attempt to determine the voter's intent
6. Your ballot gets processed by a high-speed scanner, and data are stored on a secure server.
On election night, the results are tabulated and reported.
Washington's system is similar to Oregon's, according to the Fair Elections Legal Network, a nonpartisan advocacy organization in Washington, D.C., and postal voting in both states went smoothly again yesterday. (The Election Protection coalition, also in D.C., didn't report any abuses or complaints from voters in those states in its national roundup last night). "Any time we make voting more convenient, that's a plus," says Josh Spalding, communications and policy manager of Fair Elections. Offhand, he couldn't think of any downsides to the vote-by-mail process. He says several other states, among them critical swing states such as Florida, Ohio, Colorado, and Iowa, are shifting toward mail-in ballots, as well as offering early voting to avoid Election Day chaos. "In a lot of states, about half of voters voted before Election Day," he says.
"I think a lot of states, after the 2000 election, started thinking, 'How can we make our elections better and take some of the pressure off Election Day,'" says Spalding. "There are about 33 states now where you can vote with an absentee ballot without an excuse, and vote early." He adds: "This is becoming the trend, and it's a good thing."
In addition to cutting out long lines on Election Day, mail-only voting systems may help eliminate a litany of other Election Day voting irregularities like, for example, the electronic voting machine in Pennsylvania that checked the Mitt Romney box when voters pushed the Obama button. Supporters also argue that the system is cheaper and more accurate than regular voting and may produce a higher voter turnout.
Critics, however, warn that voting by mail is subject to other glitches. A 2007 essay in the online public affairs journal TomPaine.com details why all-mail voting is only as reliable as mail delivery, may favor affluent voters, and may be susceptible to even greater corruption and manipulation by election officials.
Solving the problem of those long Election Day voting lines may require more than going postal.
Before it's here, it's on the Bloomberg Terminal.
LEARN MORE