New York's Film Industry Starts Rolling Again
By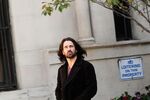 In New York City, whose film and television industry was worth $7.1 billion in 2011, the streets are typically crowded with caravans of trailers, walkie-talkie-toting film workers, and movie equipment. After Hurricane Sandy shut down film sets last week—including production for Noah, the forthcoming epic about the Biblical flood starring Russell Crowe—crews are now working to get back on track. The Mayor's Office of Media and Entertainment started issuing permits again on a case-by-case basis for outdoor shoots on Monday (though no permits will be approved for battered areas such as Staten Island, City Island, Coney Island, Red Hook, the Rockaways, and Breezy Point).
"It's been a freaking nightmare," says Teddy Yoon, a producer and location manager for Majestic Hour Productions, whose credits include Law & Order and Nickleodeon's The Naked Brothers Band. But Yoon realizes that when resources such as generators are being focused at relief efforts—rather than movie sets—he understands. "When it's commercial vs. people," he says, "it's never a question."
According to Jake Goldman, director for external affairs at the Mayor's Office of Media and Entertainment (full disclosure: the mayor is founder and majority owner of Bloomberg LP, the parent company of Bloomberg Businessweek): "Our permitting folks have been working hard" and are trying to balance the needs of the community with the needs of the production. It seems to be working: A daily list of filming locations from onlocationvacations.com shows that several movies and TV shows are shooting on Manhattan streets again, including Law and Order: SVU, Blue Bloods and Elementary.
According to Yoon, the biggest problem in getting back to work is parking. "[The city] is not allowing anyone to hold parking, like we usually do," he says. "We usually get a permit 48 hours in advance, you start putting up signs, putting up cones, holding parking. That's all suspended. It's parking 'as available.' If you're dealing with a company that has a couple of 15-passenger vans, that's not a big deal. If your dealing with a company that's like, say, Law & Order that has major trucks and motor homes, it becomes a bit of a situation."
Then there's the problem of finding new locations. Yoon was scheduled to work on a shoot in the Chelsea neighborhood of Manhattan last Monday, the day the hurricane made landfall.
"The clients from L.A., no one understood the severity of everything," he says. "The building flooded out." Then the Buildings Department deemed it unsafe. Majestic Hour Productions found a new location in the Lower East Side on Nov. 6. "I'm sure I've lost a lot of hair," Yoon says. "At the end of the day, yeah, it sucks for production, yeah, it's stressful, but it could be a lot worse. I've never been on a production where everything worked the way it was supposed to."
Before it's here, it's on the Bloomberg Terminal.
LEARN MORE