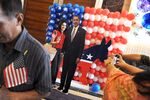 As news spread that Barack Obama had won re-election, the foreign press weighed in. Here's a quick roundup of what the press is saying around the world.
In Paris, the left-leaning tabloid Liberation ran a full-page photo of a smiling Obama on its cover, with the headline, in English: "Yes!"
A blog by journalists who covered the election at the U.K.'s Guardian took a dig at Romney in an item entitled, "Olympic levels of Schadenfreude": "The London Olympics went rather better than Mitt Romney's presidential campaign," the Guardian bloggers noted, referring to Romney's July visit to London, when he infuriated the British by implying they weren't well prepared for the Games.
Italy's Corriere della Sera attributed Obama's victory to "a team of professionals who made extensive use of 'big data' technology, along with extraordinary support for the president from music and film stars, a very effective Bill Clinton, and Michelle Obama, who carried on a parallel campaign in support of her husband as no first lady has done before."
Russia's Izvestia said that Obama is generally "more conciliatory" toward Russia than Romney would have been. However, the newspaper quoted Alexei Pushkov, chairman of the Russian Parliament's foreign affairs committee, as saying the Obama administration had been "tactless" in its treatment of Russia and urged Obama to send "a signal of readiness to build a constructive personal relationship" with President Vladimir Putin.
Most of Europe's papers had long gone to press by the time the election was called for Obama, which prompted some creative hedging. Several Belgian newspapers got around this problem by offering alternative election scenarios. Le Soir had a headline "Obama" at the top of its front page, followed by a headline on the left saying, "Has lost, see page 2″ and another on the right, "Has won, see page 3."
Spain's El Pais had an article highlighting the role of Hispanic voters, entitled: "Hispanics Decisive in the Reelection of Obama." Citing exit polls showing Obama had won 75 percent of Hispanic votes, the article read: "Election night showed that any candidate aspiring to the presidency must have them on his side."
A headline atop page one of Germany's Bild-Zeitung read, in English: "Yes he can again."
In Australia, the Sydney Morning Herald welcomed the continuity of an Obama presidency that has focused on building ties with countries in the Asia-Pacific region with the headline: "Analysis: Result a relief for Australia." In a piece entitled, "Obama's return comes with renewed focus on region," senior correspondent Daniel Filton, writes: "BREATHE a sigh of relief, Australia—had Mitt Romney won the day, it would have made for an ugly time with our big alliance partner. Barack Obama, by contrast, will now be judged in his second term on a pledge to 'pivot' America's attention to this neighbourhood." Filton goes on to point out that Australian Treasurer Wayne Swan had dismissed Tea Party members as "cranks and crazies."
In Japan, the focus of broadcaster NHK's coverage was military and geopolitical issues at a time when Japanese are angry over the U.S. military presence in Okinawa, but want American support in the dispute with China over islands in the East China Sea. "A senior official of Japan's foreign ministry says Japan welcomes the continuation of the U.S. basic policy that focuses on Asia," NHK reported online. "The governments of Japan and the United States have to overcome many issues. They include the relocation of the US Marine Corps' Futenma Air Station in Okinawa and training flights of the controversial Osprey transport aircraft over Japan."
In Thailand, the Nation newspaper focused on the big local angle, Illinois Democrat Tammy Duckworth's victory over Republican Representative Joe Walsh in a suburban Chicago district. Duckworth, 44, is the daughter of a Thai mother and an American father and was born in Bangkok. An Iraq War veteran and double leg amputee, Duckworth is the first Thai-American woman elected to Congress. "She can speak Thai," reported the Nation.
In India, the big focus was on the election's impact on the country's outsourcing industry. The Economic Times quoted Phaneesh Murthy, chief executive officer of IT and consulting firm iGATE, saying that Obama's reelection was "not best news" for India's IT outsourcing industry. Though Murthy went on to say that Indians shouldn't pay too much attention to Democrats' criticism of outsourcing. "However, we need to understand how much of the election rhetoric continues into 2013 and that will determine the full implications for us." The newspaper also quoted Indian business leaders expressing confidence the outsourcing issue would fade now that Obama had won.
In South Korea, the big issue is how to deal with North Korea, Yonhap news service reported. Relations between the U.S. and South Korea "have been arguably at their best state in nearly a decade," Yonhap said. Following Obama's victory, the big uncertainty is now the Dec. 19 presidential election in South Korea to replace President Lee Myung-bak. "In terms of future relations between Korea and the U.S., what's more important is who will take the presidential office in Korea, rather than a foreign-policy direction by the Obama second term," said Chun Chae-sung, a professor of international relations at Seoul National University.
Before it's here, it's on the Bloomberg Terminal.
LEARN MORE