ForumWatch: Paying For MBA Admissions Advice
Francesca Di Meglio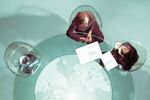 The majority of visitors to the Bloomberg Businessweek Business School Forums come in search of advice on MBA admissions. These discussion threads, after all, are a way to get tips and suggestions and to ask questions about the process for free. Those in similar situations offer thoughts and stories of their own experiences. Sometimes experts such as admissions consultants chime in as well.
Recently, Rakshith_s inquired about what schools seek in terms of work experience, as well as how to get financial aid. This is typical of the kinds of questions that are always up for discussion. It got me wondering if someone in this situation should pay for admissions help or rely on the kind of free advice that is available all over the Internet—or even simply talk to students and alumni of the programs that interest them. What do you think? Share your two cents at the "Should You Pay for Admissions Advice?" discussion thread.
Editor's Note: This blog post is part of a series about discussions on the Bloomberg Businessweek Business School Forums where prospective MBA program applicants, current students, and recent alumni trade admissions tips, job-hunting advice, and the occasional barbed comment. We invite you to join these discussions or start one of your own.