Why Investors Are Fine With a Second Obama Term
By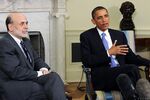 In theory and on paper, there should be no doubt that the market would much rather have a deregulating, tax-cutting, financially savvy investor in the White House. Mitt Romney is the closest thing to an accomplished businessman to get this far in a presidential race since Ross Perot ran 20 years ago.
Yet you can't help but get the sense that the market prefers continuation of the status quo: a Barack Obama presidency, coupled with an uncooperative, GOP-led House of Representatives and more of Ben Bernanke, the most accommodating chairman in the history of the Federal Reserve.
While "the market," per se, was as usual unavailable for comment, the ineluctable numbers speak volumes. Largely because Obama had the good fortune of being elected in the radioactive glow of Lehman's meltdown, he was in a position to oversee one of the strongest stock market bull runs in more than a century. Today, following trillions in combined monetary and fiscal stimulus, housing is on the mend, borrowing costs are at record lows, and debt capital markets are loving life. It was under Obama's watch that Wall Street was recapitalized and a rescued Goldman Sachs—bête noire of 99 percenters—posted the most profitable year in its history.
As someone quipped today on Twitter: "Dow Jones Industrials, Election Day morning, 2008: 9,319.83. Election Day morning, 2012: 13,112.44. Socialism makes people rich."
Here's the thing: This post-Panic of '08 era abounds with so many extenuating circumstances that investing for Election '12 can hardly boil down to going long or short tobacco, missiles, and HMOs. Obama has presided over the slowest post-recession economic recovery since the Great Depression. Unemployment stands at 7.9 percent; no U.S. president has ever been reelected with a rate above 6 percent. Even so, since the market hit a one-year low in October 2011, the price of Intrade contracts that pay if Obama wins have jumped from $4.65 for a $10 wager to $6.14 in May.
As this look back by Bespoke Investment Group shows, there's little rhyme or reason to the market beneficiaries under Obama, which are led by the disparate likes of Priceline, Whole Foods Market, and Apple. Conversely, how could a leading cleantech company (First Solar, down 87 percent) have been the market's worst performer during maybe the greenest White House in memory?
The binary elephant-good, donkey-bad school of investing thought has been on the decline for more than a decade. When George W. Bush was running for office, investors wondered if Enron, then one of the most respected and innovative companies, would chiefly be a Bush beneficiary because it was chaired by one of the then-Texas governor's closest friends and fundraisers. Or would it gain more if Al Gore were to push ahead on climate-change regulation, which could help Enron's carbon-trading business? Neither outcome much mattered to Enron's fate.
Bush, meanwhile, was sworn in as a tech bubble was in full deflation. He left office during an economic panic. Eight years of Bush II followed eight from Bill Clinton that largely saw a booming economy and flush times for the capital gains class. So then what, exactly, did the last 20 years of White Houses teach investors?
"The conventional wisdom is that investors prefer Republican presidents," says Julian Jessop, chief global economist at Capital Economics. "But we would suggest that every election is different." He says that the performance of U.S. equities has recently been positively correlated with Obama's chances "largely because both have been driven by a third factor—the latest news on the economy. But it is still hard to square with the view that a Romney win would cause equities to soar."
As Barry Ritholtz explains in his succinct and essential "Investor's Guide to the Presidential Elections," today the fate of the Federal Reserve and investment taxes eclipses sector- and company-specific concerns. Romney, he points out, has come out against the quantitative easing and zero-interest-rate policies of the central bank, and he has stated he would not reappoint Fed chair Bernanke: "He is more likely to appoint a Fed chief who will normalize interest rates and stop the extraordinary accommodations provided to the capital markets."
The candidates have vastly different approaches to the fiscal cliff, as demonstrated by proposed hikes vs. cuts for everything from capital gains taxes to the treatment of municipal bond interest and investor dividends. Long and short: Obama's proposals would hit institutional investors and the core Wall Street demographic; Romney's would be a boon to them. And yet markets have remained sanguine and volatility has stayed low as Obama's reelection chances have held up. If anything, notes Ritholtz, there was heightened volatility after Obama blew the first debate.
"We do not believe the Obama administration's policies and leadership style have been good for economic growth, and we don't have any reason to think they will improve in a second term," writes Donald Luskin of Trend Macrolytics. "But as long as the House of Representatives stays in GOP control, the worst policy mistakes can be avoided."
Luskin believes that if Obama is reelected, the negotiation in the lame-duck session about the fiscal cliff will be far more contentious, leading to a major volatility event for markets. He also worries that investors aren't focusing on the Beltway's failure to extend alternative minimum tax relief.
You see so much hand-wringing over Washington's supposedly record levels of rancor, dysfunction, and obstructionism. At least for now, markets—whatever, wherever, whoever they are—are feeling strangely fine about all that.
Before it's here, it's on the Bloomberg Terminal.
LEARN MORE