Why I Dumped the iPad 3 for a Mini
Kevin C. Tofel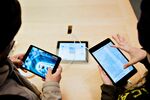 "So long, iPad 3. We've had a fun time these past eight months and I'm sorry to see you go. With your Retina display and speedy A5X processor, you've served me well. And it's not you; it's me. See, almost two years ago, I dumped the first iPad model in favor of a smaller model. Even though you trounce the new iPad mini on some specs, portability is pretty high on my list of desired features and, well—as I said in January 2011—size matters."
O.K., so I really didn't have that conversation with my iPad 3. At least not out loud. But it's true: The new iPad mini is replacing my iPad 3—lack of Retina display be damned. Before I share further thoughts on the two tablets and what led me to make the decision, let me bring back some salient points I made nearly two years ago on how Apple was missing out on the small tablet market. That post, along with the great reader commentary, was read by Apple executives, who then decided to enter the small tablet market.
Here's my summary from back then when describing the experience with my 7-inch Galaxy Tab: "I'm not suggesting everyone dump their iPads; I'm simply explaining my own decision-making process to help you make your own. And aside from our own Darrell Etherington at the GigaOM Apple channel, who tried and then returned a Tab, I've heard from at least a dozen Tab owners who are also finding less use for the iPad (and other devices) based on the 7-inch form factor. Darrell's experience with the Tab ironically made him realize that he wants a 7-inch iPad. I'm inclined to agree and would consider dumping my Tab if Apple were to sell such a device. It would be the best of both worlds, regardless of Steve Jobs's insinuation that it will never happen. Darrell's sentiment highlights a key point I'm trying to make here: We often look at the features of a device, but I contend that form is just as much a feature as the CPU clock cycle or the amount of memory in a mobile device. Of course, you never know that until you try a new form factor to see how it fits in your lifestyle. I'm glad I did that with the Tab."
Perhaps the most important point here is that without the experience of having used a small slate, it's easy to miss its biggest benefit: portability.
Damning the device without having experienced it has already been evident. IPad mini naysayers decried the device for its 1024 x 768 display before it even shipped. But the screen on the iPad mini isn't as bad as the ones found on the first two iPads.
"Wait, aren't those all 1024 x 768 resolution? How can the iPad mini screen be better than the first two iPads?"
I'm glad you asked. The answer is pretty simple: Because the same 786,432 pixels of a display with this resolution are crammed into a smaller screen, the pixel density is greater. That means—all things being equal—that things on the screen will look clearer. Not by much, but enough to see a difference. So no, the iPad mini display can't compete with the screen on the newest iPads, but it's better than the iPads from two or three years ago.
Just as I said when I dumped the first iPad in favor of a 7-inch tablet, I don't expect everyone to follow suit. After all, thanks to myriad applications, the iPad is used differently by everyone. For example, I don't create much content on an iPad—apart from e-mails and social-network updates, that is. If I were to use my iPad to write my daily blog posts, I might feel differently, as I find that activity better on a screen larger than 7 or 7.9 inches.
Instead, I do far more content consumption: e-book reading; Web browsing; watching TED videos, TV episodes and movies; and using various apps and games. All these activities fit nicely on the iPad mini, and I'm already doing them in more places. My "large" iPads always tended to stay home, but my iPad mini can easily go anywhere. As I noted in early 2011, the best tablet is the one you have with you.
As far as the iPad mini's usage, performance, and feature set, I feel like I'm getting the full iPad experience in a package more suited to my particular needs. Based on a visit to the local Apple Store in King of Prussia, Pa., over the weekend, I suspect many others are starting to see the light. I watched person after person enter the store and walk up to the iPad mini display units with a quizzical look on their face, as if to say, "What's the point of this smaller iPad?"
More often than not, those looks melted away after a few minutes. It was as if I could actually see light bulbs going off over people's heads. With portability, a lower price, and the full iPad experience, I suspect Apple will sell more iPad mini tablets this holiday season than any other iPad model.
So goodbye, iPad 3. You were great. Whenever I had you around, that is. The problem is that a slimmer, lighter model gives me the same utility in more places—even with that lowly 1024 x 768 display.
Also from GigaOM:
Apple Needs to Find a Way to Swim Upstream (subscription required)
A Beautiful Design and No Jerks: How Tumblr Did It
Welcom to Instagram on the Web: Facebook-Esque Profiles Aimed at New Users
Kickstarter CEO Perry Chen: We Don't Ever Want to Sell this Company
Data Doesn't Play Politics—And Most of It Suggests Obama Will Win
Before it's here, it's on the Bloomberg Terminal.
LEARN MORE