The Number—and Variety—of Business Incubators Is on the Rise
Verne Kopytoff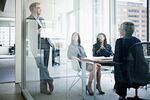 A search for an office with an energetic vibe led Livefyre, a company that provides software for posting comments on websites, to undergo a rite of passage for new Silicon Valley businesses. It joined an accelerator, a sort of business academy for startups.
For eight months, the team sat in a bullpen with fellow entrepreneurs at KickLabs, one of a long list of accelerators in and around San Francisco. Anyone who needed help could get it from a neighbor or the accelerator's staff, which regularly doled out advice and arranged meetings with potential investors. "There was high energy," says Jordan Kretchmer, Livefyre's chief executive. "The staff did a lot of walking about and asking, 'Is there anything you need today?'"
Accelerators and their close cousins, business incubators, have become important launch pads for young businesses. Through coaching and connections, they help companies get through the wobbly toddler stage until they can stand on their own. Such programs vary widely in their duration, focus, and mission. That leaves a lot for entrepreneurs to consider before committing to one. Is a few months of coaching ideal, or a few years? Are programs focused on a specific industry better than a generalist approach? What about the cost, if any?
Of course, going through an incubator or accelerator is no guarantee that a business will ultimately thrive. New companies fail all the time, with or without intensive coaching. The question is whether success rates are any higher for graduates of such programs. Unfortunately, there is no easy answer. What is clear is that there are a lot of incubators for new companies to choose from. Last year, the U.S. had 1,250 incubator programs, according to the National Business Incubation Association, a trade group with 2,100 members in 60 countries.
Incubators have existed for some time. But the phenomenon gained momentum in the 1980s and has since expanded worldwide. "Public recognition of the industry has grown tremendously," says Tracy Kitts, acting chief executive of the incubator association. "It used to be that I'd be in a roomful of people, and only one person would know what I was talking about. That's not the case anymore."
Incubators select startups they think show the most promise from a pool of applicants. Staff then mentors participants about business basics, makes introductions to potential customers and partners, and helps find investors and financing. "An entrepreneur generally knows the product really well, they may know the market really well, and they may know the technical end really well," Kitt says. "But running a business is often a foreign thing to them."
Housing a number of startups together is one way to help give them an edge. Entrepreneurs can bounce ideas off one another and collaborate. In some cases, rent for office space is free. If not, leases are usually at or below market rates.
Some programs accept companies in any industry as long as they meet certain criteria, such as size and sufficient funding for the near term. Others are focused exclusively on an industry niche, such as biotechnology, medical instruments, or food, so they can offer more expert advice and relevant contacts. Such distinctions help dictate the length of a program. Certain kinds of businesses, such as electronics makers, can take years to mature, while others may be ready to go it alone in far less time.
The vast majority of incubators—93 percent—are operated by nonprofits, according to the National Business Incubation Association. Academic institutions such as universities, economic development organizations, and government agencies are the biggest sponsors. Accelerators, by contrast, are usually led by or affiliated with an investment firm looking to get in early on the next Facebook or Twitter. The programs are almost entirely focused on technology companies. Y Combinator, a Silicon Valley accelerator founded in 2005, is largely responsible for popularizing the concept. Dropbox, the online storage locker, and Airbnb, the online vacation rental service, are its biggest successes.
To join an accelerator, startups must generally give up a 6 percent stake in exchange for free office space and some cash. Being accepted into the most prestigious accelerators is like a stamp of approval and significantly lifts a company's chances of getting more funding down the road from venture capitalists.
But Alana Muller, president of Kauffman FastTrac, a nonprofit that promotes entrepreneurship, advises startups to tread cautiously before agreeing to give up an investment stake. Check the program's track record and verify that the services it provides are worth it, she says. "Entrepreneurs should be leery about anyone who wants to take an equity stake in their business," she explains. "Know what you're going to get before you do it."
Accelerator programs also are almost universally brief—three months, for example—in keeping with the rapid pace of the technology industry. Startups can quickly develop an idea for a business, build a mobile phone app, and ship a rudimentary version in just 12 weeks. In the process, entrepreneurs, many of whom are just out of college, get a crash course in creating a business from scratch. Accelerator organizers push through classes of up to 40 startups at a time in the hope that one or two will gain traction and offset the cost of investing in the rest.
Grumbling about accelerators is common, however. Some entrepreneurs and those who closely follow the startup scene say the model has shortcomings. Startups in an accelerator can have trouble getting face-time with accelerator staff because of all the companies vying for attention. After graduation, entrepreneurs find it even harder to solicit advice.
Then there's the criticism that accelerators mistakenly push companies to pivot swiftly from their business idea if it fails to catch on quickly. Another is that accelerators emphasize getting acquired instead of building a business for the long term. "What you don't get are companies built on strong principles of passion," says Livefyre's Kretchmer. He described the KickLabs program, which his company attended through last year before moving into its own office, as an exception to the "pivot mentality" practiced elsewhere.
Indeed, KickLabs is slightly different from other accelerators because it targets startups that have already raised some capital and built a product. Most other accelerators are geared toward startups that are a step or two earlier in their evolution. At any one time, KickLabs has six to eight companies under its wing, compared with 40 in a Y Combinator class. Since opening in 2010, 38 companies have gone through KickLabs, and only one of them has shut down, says Chris Redlitz, the accelerator's founder. "Our goal is to work with fewer companies and spend more time with them," he says.
Whether experienced startup founders have anything to learn from an accelerator or incubator is a topic of perpetual debate. Why give up a stake in the company, in some cases, merely to get advice and contacts you don't need? Redlitz counters by recalling one company whose founders had a lot of business experience, but not as part of a startup. "They knew how to close a deal," he explains, but to get to that point, they needed help.
Before it's here, it's on the Bloomberg Terminal.
LEARN MORE