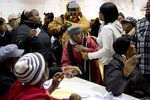 An argument broke out at my polling place today in New York City. It started when one of the poll workers told our long line of grumpy, glassy-eyed voters that we needed to check our voter registration cards to make sure we were at the right poll.
"That's wrong," a woman shouted at him. "Last night Governor Cuomo announced that because of Hurricane Sandy, all New Yorkers could vote at any location as long as they had an affidavit."
"But how do you get an affidavit?" asked someone in a part of the winding, twisting line that I couldn't even see.
"You don't need anything," someone else said. "They'll give you an affidavit ballot when you vote."
"But only if you live in an area destroyed by Hurricane Sandy," another voter said.
"Please look at your registration cards," the poll worker reminded us again. (Ordinarily we do not report quotes without attribution, but in this case there's no way to convey the scene otherwise.)
During the nearly two hours I waited in line to vote, I watched the poll workers and voters untangle misinformation from fact, and imagined the same scene taking place at thousands of voting locations throughout New York. Here's the truth behind the last-minute announcement: Governor Cuomo has allowed any voter registered in one of the federally declared disaster counties in New York to vote at any location in the state with an affidavit ballot—although those ballots can be cast only for the presidential and U.S. Senate elections, not the local district elections. That includes all New York City residents. Cuomo signed the executive order yesterday evening, about 13 hours before the polls opened, which may explain why some poll workers were unaware of the last-minute rule change.
I talked to one woman, a Broadway actress named Jenifer, who waited in line for 1½ hours at one polling place in Harlem before she was turned away because it wasn't her correct location. "They didn't know you could vote anywhere so I came here," she said, referring to the fluorescent-lit apartment building lobby that was doubling as a polling location on Frederick Douglass Boulevard. "I've been waiting for four hours today."
Alex Berman, a content manager at Kaplan Publishing, lives in midtown and was relatively unaffected by Sandy; still, he skipped his assigned polling place—across the street from his apartment—for one closer to his work in Greenwich Village. "I was in a bit of a rush to get to work this morning, so I planned to go vote during lunch. But I knew about the announcement so when I saw the 'Vote Here' sign by my office, I just walked in," he said. Still, Berman spent some time waiting in the wrong line because the polling location didn't have any signs explaining what to do, but he eventually found another affidavit voter and "just followed him over to a table and from there it was pretty easy."
While some polling places dissolved into confusion this morning, others accepted Cuomo's sudden rule change in stride. Devon Edwards, a 22-year-old student at NYU's School of Law who is registered to vote in his hometown of Setauket, in Long Island's Suffolk County, actually needed the affidavit ballot because of the storm; he couldn't get back to the polling place where he is registered. "I was really concerned I wouldn't get to vote because of Sandy," he said, "so I was excited about Cuomo's announcement." This morning he walked into a polling place on Sullivan Street in Greenwich Village, and voted for Libertarian candidate Gary Johnson. He was done in less than five minutes, while the regular voting line stretched far down the street. "It's not like my vote counts that much in New York anyway," he says, "but at least I wasn't just another person checking off 'Barack Obama.'"
Before it's here, it's on the Bloomberg Terminal.
LEARN MORE