Lenovo's Persistent PC Strategy in India
The Chinese company wants to boost PC ownership in India
by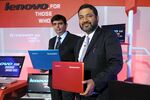 For Lenovo (992:HK), the global narrative is close to "Mission Accomplished." The company used to trail far behind market leaders Hewlett-Packard and Dell, but is now on track to achieve its goal of becoming the world's largest PC vendor. According to Gartner, the Chinese company is already there, having passed HP in the third quarter with a 15.7 percent share of global PC shipments. Rival research firm IDC says there's still a little way to go, with Lenovo and HP neck-and-neck.
Once Lenovo does get to the top, what next? Being No.1 in the PC business right now is a bit of a tarnished prize because the PC industry is struggling to withstand the transformation of the electronics industry wrought by Apple's iPad and other tablets, as well as Apple's iPhone and other smartphones. What's a PC company to do?
One answer: Look to India and other emerging markets. PCs may seem a slow-growth business in developed markets, but Amar Babu, managing director of Lenovo's India business, says he still sees opportunities in developing countries such as India, whose PC penetration is low. Indians still want to buy computers, says Mumbai-based Babu. Only 8 percent or 9 percent of Indians own PCs, a tiny figure when you consider that the penetration rate in developed countries is about 10 times larger.
You might think this would create an opportunity for tablets, with Indian consumers leapfrogging to a more advanced technology and skipping the one in the middle. That's what happened in telecom, with millions of Indians who never had land lines finally getting connected via cell phones. But Babu says that is not going to happen with computers. "The PC is still the choice for first device, not a tablet," he says. That's because a tablet can't match a PC when it comes to creating content, with its larger screen size; a lot of these applications are still used for education, he says. "People still feel comfortable having the PC as their first device."
Lenovo is already the top PC vendor in India, with 17.1 percent of the market in the second quarter, according to IDC statistics. HP was well behind, at 13.7 percent. Babu has plans to keep Lenovo on top, despite the growth slowdown in the Indian economy. The PC market in India last year grew at about an 8 percent clip, he says—not bad when compared to the West, but Lenovo and other PC vendors had become accustomed to growth rates between 15 and 25 percent. "There has been an impact of the slowdown," says Babu, "in all segments of the market."
The picture for this year is even worse, with Babu seeing flat growth. However, the Lenovo executive is optimistic that the economic reforms announced by the government of Prime Minister Manmohan Singh, starting in September, will help give a boost to the PC market next year. In the meantime, Lenovo is pushing ahead with plans to further establish itself with Indian consumers. In the past 18 months, the company has signed exclusive deals with 1,000 electronics retailers across the country, and Babu expects to add a further 400 in the fiscal year ending in March 2013. Lenovo is now in 650 Indian cities.
While Babu says he's confident that Indians aren't giving up on PCs, Lenovo isn't taking any chances. The company is starting to sell five Lenovo-branded smartphones in India. Lenovo has become a major player in the Chinese smartphone business, but this will be the company's first move into India's telecom market. The company will sell phones at prices that start at $120 and then rise as high as $500 models. While there are over 900 million cell-phone numbers in India (many Indians have multiple SIM cards for their phones, so it's hard to know the actual number of cell-phone users), there are only 18 million smartphones, according to Babu. "We believe there is a huge opportunity for smartphones," he says. "The whole smartphone revolution is picking up as we speak."
Before it's here, it's on the Bloomberg Terminal.
LEARN MORE