Yes, There Are Still Undecided Voters
By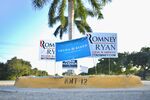 No, this isn't a Saturday Night Live skit. There are still people who haven't decided whom they're voting for in Tuesday's presidential election. It's like cramming before an exam, "but it's a lot bigger scale," says undecided voter Anna Lyles, a 22-year-old financial services representative and resident of Norman, Okla.
Lyles was online all of Monday, reviewing where the candidates stand on the issues. She is not alone. According to Google Trends, searches for "romney obama" have climbed over the last seven days.
"There is definitely a lot to sift through," she says. "It was overwhelming. It's like, 'Whoa.'"
Lyles is talking to co-workers and friends about their choices, though she says this group is split about evenly between Obama and Romney. "It's just such an important decision." In 2008, she voted for John McCain with less hesitation, but this time it's different. "I'm older and more aware of the things happening, instead of just being like, 'Hey, I'm 18, I can vote.'"
Alexandria Morelock, a 21-year-old student in Gibsonburg, Ohio, says this is her first time voting in a presidential election. She's not typically an indecisive person, she claims, but in this election she is still "split 50/50." Her solution: Go online Monday night, read up, and "go with what I feel that day [Tuesday]."
"I'm a busy college student, and I really haven't had time to sit down and go through and research," Morelock admits. "I've been thinking about this for a long time. It's been very hard for me to decide because I don't believe Obama has come through for the economy and I don't agree with Obamacare, but I do agree with him on gay marriage rights." As for Romney, "[He] is not the greatest for women's rights, and being a woman, that's something that's really important [to me], too."
Lyles says while neither candidate is her "favorite option," she is leaning toward Obama. By Tuesday morning, she vows, "I'll just make myself decide—one or the other."
Before it's here, it's on the Bloomberg Terminal.
LEARN MORE