B-School Startups: Before Voting, Check Out ElectNext
by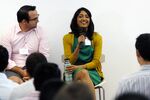 Editor's Note: This story is part of Bloomberg Businessweek's occasional series on the world of startups. The series focuses on MBAs and undergraduate business students who developed their ideas or launched their businesses while still in school, as well as the many ways their schools helped them get the new ventures off the ground.
Keya Dannenbaum became so absorbed in her first year of MBA classes that she made a serious professional blunder: She missed the deadline to register to vote.
It was fall 2010, right before the U.S. congressional election, and Dannenbaum had arrived at the University of Pennsylvania's Wharton School after working for Hillary Clinton's 2008 presidential campaign and leading election strategies for the mayor of New Haven, Conn. She had also recently finished a master's degree in political science at Princeton. Sitting out the 2010 election "was truly a look-in-the-mirror moment," she says. "I'd spent all this time lamenting how this happens to everyone else, and here I was in the same situation."
Months later, a Wharton professor assigned Dannenbaum to pitch an idea for a startup. Her answer was the political data company ElectNext, which in less than two years off the ground has raised $750,000 and landed deals with the Washington Post, NBC Politics, PBS NewsHour, and Hearst Television.
Dannenbaum's idea was simple. She reasoned she had partly forgotten to register to vote because she didn't know enough about the candidates running, and therefore didn't feel invested enough in the race's outcome. Her plan was to create a website that would ask users a series of questions about their political beliefs, and then show them the candidates running in any election who best matched their values.
In the company's early stages, Dannenbaum likened the site to online dating services Match.com and OKCupid, drawing on the analogy that users would be paired with their best electoral partners. However, "we didn't have a lot of data on candidates," she says. "And we manually researched answers."
Today's site is much more sophisticated. It counts more than 2 million users and scrapes information about candidates' policy platforms from more than 15 million campaign finance records as well as interest group ratings and politicians' official websites. It then serves up recommendations based on users' selections in a way that is similar to how Netflix makes movie suggestions, or how Amazon offers up purchase ideas. The site covers more than 4,500 politicians at the federal level and will soon expand into municipal politics. Users can click on each candidate recommendation to see exactly why a person was suggested for them.
ElectNext is nonpartisan and for-profit, and generates revenue by providing an app to its media partners. Its backers include Comcast Ventures, the venture capital arm of NBC parent Comcast, and the John S. and James L. Knight Foundation, an early supporter of ProPublica. The company has not yet reached the break-even point.
Dannenbaum left business school last year in order to drum up usage for the site headed into the presidential election. She says she's undecided about returning next year. Yet the school played a substantial role in starting her company.
Wharton's Karl Ulrich teaches Design of Web-Based Products and Services, and is the professor who assigned Dannenbaum to pitch her idea. His class is a four-day intensive program held at Wharton's San Francisco campus over winter break. The premise is that "students are better off spending four days creating a prototype website and getting feedback, than spending half the year thinking about whether their idea is any good or not," he says.
The class enrolls about 50 students, and each arrives on the first day with five Internet startup ideas. Students vote for the best pitches and whittle the list down from 250 to 50, then to 25, and finally to six. The students are divided equally into teams, each building an idea from the short list. "Usually one emerges as a real company," Ulrich says.
The class has quickly grown in popularity in the four years it's been offered, and past students include Warby Parker co-founder Neil Blumenthal. (Blumenthal did not pitch Warby Parker in the class because he was guarded about that idea, Ulrich says. He does not remember Blumenthal's five suggestions.)
Shortly after the January 2011 course, Dannenbaum got $5,000 in startup cash from the Wharton Innovation Fund and ran a test partnership with the Philadelphia Inquirer focusing on the Republican primary election. She's been busy since, performing demos of ElectNext at tech events in Silicon Valley and New York.
One perk of this year's frenzied presidential blitz: Dannenbaum did not forget to register to vote.
Before it's here, it's on the Bloomberg Terminal.
LEARN MORE