A Flooded Game Maker Unloads on a Shipping Giant
by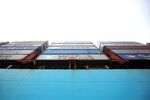 Like plenty of fellow Northeast business owners, Joel Berger is still dealing with a slew of Sandy-related hassles, including cleaning up one of his flooded warehouses in Long Island City, Queens, near the Midtown Tunnel. The water, which reached about two feet up the walls, ruined "tens of thousands" of dollars worth of checker sets, puzzles, and other games at his 65-year-old company, Cardinal Industries. "It's never been impacted before, in all the years we've been here."
Berger hasn't had much time to kvetch about Cardinal's troubles or trumpet its fortitude. He's been driving into Long Island City from his powerless home in Westbury, Long Island, to join many of his 40 employees in a cleanup effort that involves "unloading maybe 1,000 pallets" in the 20,000-square-foot warehouse.
Still, Berger felt he had to carve out a few minutes to vent about one unexpected headache: a shipping behemoth that is tacking on fees to deliver his goods that it rerouted because of the storm.
Berger hired Maersk Lines (MAERSKB:DC) to bring about 10 containers by ship from China to New York. Last week, he received an e-mail from Maersk indicating that his containers had been discharged in Norfolk, Va., because New York area ports had closed in anticipation of Sandy. Port Elizabeth reopened on Nov. 4; Newark and Jersey City ports reopened Monday; and  those in Red Hook, Brooklyn, and in Staten Island remain closed, says Steve Coleman, a spokesman for the Port Authority. "The last time they were closed down for multiple days was after 9/11," he notes.
Berger understands why Maersk, which is the world's largest container line, didn't want to delay its ships. "But now to bring it where it was originally consigned to, they want $775 per container"—or "we can pick them up [for free and return them ourselves] in Norfolk." He acknowledges that Maersk isn't violating the terms of its contract. "Buried in the boilerplate … they can do anything they want," he explains. "But with everything that's going on in New York, wouldn't you think they would just send it back in just for the heck of it?"
When I contacted Maersk, which is headquartered in Copenhagen, a spokesman indicated that a colleague in the U.S. would respond, but no one had done so as of Monday evening. Charging because of natural disasters "is not the right way to handle it," says Charles Clowdis, managing director of transportation advisory services at researcher IHS. "But if you're small … you don't have the purchasing leverage to make them do it."
"It's just a moral question," says Berger. "Can we afford the $775 per container? Yes, and that's what we're going to have to do. Do I think it's the right thing to do? They're loading barges from Norfolk to New York. I've got to believe—I'm not sure, I don't know the costs, [but] I don't think it costs $775 … Either way, whatever it is, it would've been a good little gesture to their own customers," he says, to waive the fee.
Before it's here, it's on the Bloomberg Terminal.
LEARN MORE