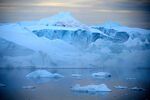 Sea level rise—a foot in the past century—has also surpassed the global average of 7 inches. Ocean currents and other factors unevenly distribute ongoing sea-level rise around the globe; New York is one place where seas have risen higher and will continue to do so. The interior of the state is still slowly rebounding from heavy glaciers that pushed down the surface tens of thousands of years ago, but as land rises inland, the coast, like a hinge, is slowly tilting into the rising water. As a result, the study predicts 8 inches to 23 inches of relative sea-level rise by the 2080s. But it warns that a drastic 55 inches—four and a half feet—is possible if melting of the Greenland and West Antarctic ice sheets accelerates. The ice sheets' future pace of reaction to warming is still a big unknown in climate science.
—Cynthia Rosenzweig et al., "New York State May Soon Suffer Outsize Effects from Climate," Lamont-Doherty Earth Observatory, The Earth Institute, Columbia University, Nov. 16, 2011.
State Delegate Chris Stolle (R-Virginia Beach), who insisted on changing the "sea level rise" study in the Virginia General Assembly to one on "recurrent flooding," said he wants to get political speech out of the mix altogether. He said "sea level rise" is a "left-wing term" that conjures up animosities on the right. So why bring it into the equation? "What people care about is the floodwater coming through their door," Stolle said. "Let's focus on that. Let's study that. So that's what I wanted us to call it."
—Rebecca Leber, "Virginia Lawmaker Says Sea Level Rise Is a Left-Wing Term," Think Progress, June 10, 2012.
The floodwater came through the door.
I have the clearest recollection of the collapse of the Copenhagen Climate Change Conference. A stunned left wing; the right wing rejoiced.
I have no burning view on the "animosities" of the debate other than to say I believe in science. (The belt had fish hooks in it as they beat me: Newton, Faraday, Edison, Salk ….)
Consider the heart of the matter. Both Left and Right won't know they're wrong until it's too late. Discuss.
Before it's here, it's on the Bloomberg Terminal.
LEARN MORE