The Piglets of Europe Await
by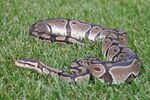 Imagine a credit python—the U.S. is the pig at the end of the snake, and China and Asia are the pig entering the snake in terms of deleveraging the banks.
—James Chanos, Kynikos Associates: "Chanos Unmoved by Chinese Banks' Biggest Rally Since January," Julie Leite and Susan Li, Bloomberg News, Nov. 2, 2012
Chanos bets on a decline in the value of such things as equities, bonds, currencies, commodities, and nations. He "shorts" things.
This makes him lonely at any and all Wall Street gatherings. There is no room for him in the inn at the Mandarin Oriental in Hong Kong.
Pythons come in seven flavors. Mr. Chanos's species is Pythonidae Python Hayakian. It feeds on banks whose bacon has been fried. It hunts to clear markets.
The U.S. banks have been cleared. China beware: The piglets of Europe await. Discuss.
Before it's here, it's on the Bloomberg Terminal.
LEARN MORE