business
Sandy Means Record Week for Roof Measuring Company
By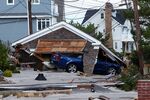 Chris Barrow, chief executive of EagleView Technologies, was just beginning to reduce the hours for his 200 employees to account for the slow season when Hurricane Sandy hit. Now, his Seattle company is closing out the busiest week in its four-year history.
EagleView's software uses aerial pictures to calculate the size of roofs so insurers and contractors can estimate damages. Orders from insurance companies started pouring in Tuesday morning, Barrow says, as homeowners on the East Coast began filing insurance claims. "It kind of surprised us a little bit," he says. "The winds were still blowing."
EagleView's software pulls existing aerial photos of buildings and determines the size and pitch of the roof, measurements that would otherwise need to be taken by a person climbing up a ladder. Barrow says orders are up nearly tenfold from a normal week, with more than 20,000 daily requests, most of them Sandy-related.
The reports cost about $50, though EagleView negotiates bulk discounts with insurance carriers, Barrow says. After the insurance companies, he expects two more waves of business from claims adjusters and contractors. Using the reports lets claims adjusters visit double the number of damaged homes than they could if they had to measure roofs by hand, he says.
EagleView is keeping on full-time workers who were expecting to have their hours reduced for the winter, when construction slows. "We increased the Red Bull that we buy," Barrow says.
Before it's here, it's on the Bloomberg Terminal.
LEARN MORE