Displaced Workers Find Impromptu Co-Working Spaces
by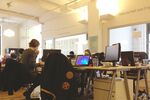 With many office buildings in Manhattan still without power, mobile workers are finding ways to coexist—peacefully, for the most part—wherever they can find a power outlet and an Internet connection. The savviest nomads, weary from the battle for space at cafes, are now making temporary homes in other offices—some of which have opened to other workers for free.
On Wednesday, Noel Hidalgo, co-founder of website development firm New Amsterdam Ideas, quickly set up this site listing locations where people can "work, recharge, and reconnect." These include places that are open to the public for free, as well as traditional co-working spaces that charge a fee. Unable to work from his office in Chinatown, Hidalgo says he's operating from a co-working space in Williamsburg, Brooklyn. As of 2:30 p.m. on Friday, the site had 36 office locations listed in Midtown.
Ellen Manuszak, senior account executive at public-relations firm TriplePoint, is working at her friend's office at advertisers LocalResponse on 28th Street. Several desks were open, as some employees were not able to make the commute. Manuszak is not the only guest—she estimates about half the people there on Friday morning were not LocalResponse employees.
In the garment district, Christina Wallace, co-founder of women's apparel company Quincy, opened up the company's office to workers in need. She says on Thursday about 15 people, both friends and strangers from New York's startup community, came to recharge devices and, in some cases, work all day. The office was designed to be flexible, so they expanded tables, brought out extra chairs, opened up the showroom, and offered seating on the floor with pillows. Her team played music and offered visitors red wine at the end of the day.
"We're happy to keep it open next week if people are in need of space or plug-ins," Wallace says. "I'd love to keep the co-working going."
Before it's here, it's on the Bloomberg Terminal.
LEARN MORE