Blackout Bag Lunch: Simple Recipes for Those Without Electricity
By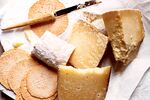 Like the rest of Lower Manhattan, Parigot has been without power since Monday night. But the restaurant has bravely forged on, able to cook on gas stoves and serve drinks, and has kept its doors open from morning until 6 p.m. Owner Catherine Amsellem says that among the handiest ingredients to have during the blackout are French cheeses, many of which don't need to be stored in a cold environment. Just keep them near a cool window, she advises.
For those who have no access to power or a working stove, Amsellem and chef Michel Pombet suggest a simple cheese sandwich. If you can still get fresh produce, go for root vegetables such as carrots, or hardier leaf vegetables like endives, which have a longer shelf life. No measurements are included with these recipes—just work with what's available.
Cheese Sandwich
Any variety of French cheese, such as brie, Camembert, or goat
Mustard
Bread (whatever variety you can get at the supermarket)
Root Salad
Carrots
Tomatoes
Dressing: Mix the juice from 1 lemon, 1 tbsp mayonnaise or mustard, ½ cup oil (olive oil, if available), salt, pepper
Endive Salad
Endive
Blue cheese
Apple slices
Walnuts
Dressing
Before it's here, it's on the Bloomberg Terminal.
LEARN MORE