As New York City Marathon Sponsor, ING Comes Under Fire
by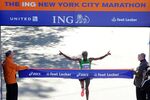 ING's sponsorship of the New York City Marathon turned into a branding disaster this week as a divided city debated whether the city should hold the ING New York City Marathon on Sunday.
On Friday evening, city and race officials announced that the marathon was canceled, after spending much of the week vociferously defending the decision to hold it in the wake of Hurricane Sandy.
The effort to continue with the marathon as planned while many area residents were without electricity and struggling had been met with widespread anger—particularly on Staten Island, where the race was set to begin and where locals continue to suffer from extensive damages from the storm. On Wednesday afternoon, Staten Island Borough President Jim Molinaro joined a growing chorus of New Yorkers calling for the Bloomberg administration to cancel the race.
"My God," said Molinaro. "What we have here is terrible, a disaster. If they want to race, let them race with themselves. This is no time for a parade. A marathon is a parade."
On Friday morning, the backlash grew, as the New York Post reported that generators, which in theory could be used to power darkened homes on Staten Island, have been set up in Central Park to power a media tent for the marathon. "They should make all of these runners bring food and water to people's houses who need it," Yelena Gomelsky, a Coney Island resident, told the Post. "They should bring all of these generators to buildings where old people live and give them power."
All of which placed ING–which has served as the title sponsor of the race since 2003–directly in the cross hairs of a large and vocal group of furious consumers, who were increasingly directing their displeasure at the bank even though its city officials and the race organizers who in the end decide whether the race moves forward.
By Friday morning, the official ING New York City Marathon Facebook page was brimming with comments knocking ING for the fact that the race was not canceled.
"Every single sponsor of this event and every single runner who shows up for this event should be ashamed!" wrote a commenter named Stephanie Clark.
"As an ING customer and a native New Yorker I am appalled that this event will go on while thousands of people are without help in this great city of ours," wrote Chris Pena. "Shame on ING for allowing this to go forward."
"Instead, ING, you should dedicate all of the resources being gathered NOW to all of the New Yorkers, CT, and NJ residents who are cold, thirsty, and tired from the devastation of Sandy," wrote Trevor Laubenstein. "Utterly irresponsible to hold this race."
The race's organizers announced that ING is donating $500,000 to aid victims of the hurricane. But the act of generosity did little to stem the disgust directed the bank.
"It's not the NYC Marathon it's the 'ING' NYC Marathon … and there is the answer as to why this is being run," wrote Kevin Foley on the marathon's Facebook page. "ING's name is on the race and so their interest are given higher priority that those of NYC."
"As a runner and native New Yorker I always wanted to make the NY marathon my first," wrote Nicole Neglia. "And 2013 was going to be the year. However in the wake of all that has happened not even will I never run a NY marathon but I will also boycott ING."
"Our hearts go out to the many people, businesses, and New York-based ING U.S. employees that have been impacted by Hurricane Sandy this week," emailed ING spokesman Joseph Loparco before the cancellation announcement. "ING U.S. will follow the City's directive and stands ready to support New York City in whatever actions it decides to take. Ultimately, it is the City's decision whether or not to conduct the event."
Before it's here, it's on the Bloomberg Terminal.
LEARN MORE