Who Will Pay For New York's Subway Repairs?
By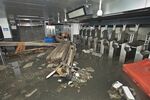 It's taking a Herculean effort to get the New York transit system back up and running—one that will no doubt come with a large price tag. A 2011 report envisioned that the type of flooding Sandy has brought could cost $10 billion to fix the transportation infrastructure. Who will pay?
Some transit authorities buy insurance coverage on the open market, while other agencies self-insure when they determine that paying the claims themselves costs less than ponying up premiums to another company. That's just what New York's MTA did in 1997, when it started its own insurer, First Mutual Transportation Assurance Co. In 2010, the MTA paid almost $100 million in premiums to FMTAC, which had $592.7 million in assets.
Just because the MTA is self-insured doesn't mean it will pay the full costs of the disaster. According to a June report (PDF) from the New York Department of Financial Services, the MTA's insurer directly covers the first $25 million of property damage that the MTA occurs in a big event. When a disaster triggers larger losses, the FMTAC recoups up to $1 billion in losses from reinsurers. (As my colleague Brendan Greeley explained in his excellent cover story last year: "Reinsurance, in essence, is insurance for insurers.")
Assuming that rebuilding costs exceed $1 billion, much of the additional tab will likely be picked up by the federal government. During a disaster, the Federal Emergency Management Agency is required to reimburse states and municipalities for 75 percent of repair costs, but the proportion can go up to 90 percent or even 100 percent in extreme cases. On Oct. 31, New York Governor Andrew Cuomo requested 100 percent reimbursement for the initial response to Sandy, saying, "The cost to restore the complex electrically driven subway and rail transportation systems after total inundation from saltwater flooding will place a tremendous financial burden on New York State." On Nov. 1, New York's senators said that FEMA has agreed to bear the full costs for the first week-and-a-half of the recovery.
In a analyst note on Nov. 1, Moody's said that disasters can cause "short-term liquidity problems" as municipalities rush to get recovery money out the door. Eventually, once the local agencies settle up with the federal government and insurers, they have "an extremely strong track record of recovering from natural disasters."
Before it's here, it's on the Bloomberg Terminal.
LEARN MORE