Village Voice Media Again Sues Over the Phrase, 'Best Of'
By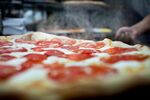 Can a company claim ownership of a phrase as commonplace as "best of?" Village Voice Media, a publisher that covers restaurants, entertainment, shopping, events, and other categories for its various local publications across the U.S., would answer in the affirmative. The media company is claiming to have exclusive rights to the phrase in 10 such instances as "Best of Phoenix" and "Best of Twin Cities," and is now is suing Yelp for using these registered marks. (Bloomberg Businessweek compiled a list of other everyday phrases that are trademarked.)
"If we were trying to go around and say you can't say 'best of' anything, in your life, that would be pretty ridiculous," says Village Voice Media attorney Steven Suskin. "VVM just has a strong interest in protecting its trademarks, Best of Phoenix, Best of Denver, etc." Yelp declined a request for an interview.
This is not the first time VVM has taken legal action for these trademarks. In 2011 the company sued Time Out New York for its annual "Best of NYC." It settled the suit in April 2012, and Suskin claims Time Out New York will no longer publish the issue under that name. In 2000—when VVM was called New Times Media and Citysearch.com was part of Ticketmaster Online-Citysearch—an Arizona court found that "Best of Phoenix" was a trademark of New Times Media and prohibited Citysearch from using it. Now owned by West Hollywood (Calif.)-based CityGrid Media, Citysearch today runs "Best of Citysearch" listings.
Are other "best of" franchises endangered? Here are just a handful of additional city publications that use the phrase:
— New York magazine's "Best of New York:" Includes eating, fun & nightlife, home & help, shopping, health & self, and kids.
— About.com's "Best of" guides: A quick search found pages for Miami and San Francisco.
— Bestof-MyTown's Bestof-denver.com: The site promotes events and deals from local businesses.
— Philadelphia magazine's "Best of Philly": The Metrocorp publication picks its favorite restaurants and bars, shopping & style, fun & games, and services.
— Chicago Magazine's "Best of Chicago": This Chicago Tribune website profiles the Windy City's noteworthy "shops, bars, food, fun & more!"
Before it's here, it's on the Bloomberg Terminal.
LEARN MORE