business
New York's Food Trucks to the Rescue
By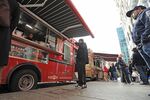 The gourmet food trucks of New York are a source of pride and ridicule. They've been criticized by restaurants. They've been ranked by Zagat's. Some developers are creating space for them as a perk for office workers. Now some of the city's food trucks are serving areas of New York that remain without power, delivery trucks, and even take-out.
Gorilla Cheese was at downtown Manhattan's Union Square Thursday afternoon, offering grilled cheese sandwiches and a place to charge phones. Big D's Grub Truck, parked near New York University, was advertising a three-hour special: It would give 100 percent of its sales of grinders or rice platters to help buy food—"not tacos!!"–for those evacuated from the devastated Queens community of Broad Channel. And Wafels & Dinges was giving away free waffles and snacks at City Hall Park, courtesy of JetBlue.
Word must have reached Hoboken, which is flooded, dark, and cold. The city posted a Facebook message on Thursday: "Have a food truck? Come to Hoboken and help us feed our community."
The return of the food trucks also caught the attention of Mark Perry, a professor of economics and finance at University of Michigan in Flint, Mich., and a scholar at the American Enterprise Institute. He said by e-mail: "Perhaps we have inadvertently and unintentionally added a new flotilla/fleet/armada of national "emergency response" mobile food providers. It would seem that food trucks are perfectly situated to go to areas in need of food, and can get there often before the Red Cross or FEMA or the National Guard, especially in places where there is no power, etc. And it's a way for food trucks to maintain their business following disasters, whereas restaurants might be shut down weeks. So it's win-win-win."
Before it's here, it's on the Bloomberg Terminal.
LEARN MORE