New Jersey Struggles To Ready Polls Without Christie's Help
By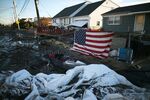 New Jersey governor Chris Christie doesn't seem concerned as to whether the state's storm-addled residents can get to the polls on Tuesday. "Let the politicians who are on the ballot worry about Election Day—It's not my problem," he said recently. But other state and local officials are scrambling to make sure votes are cast and counted on Nov. 6.
"We've started delivering machines and are hoping electricity will be restored," says Dennis Kobitz, administrator of New Jersey's Union County Board of Elections. If there's no electricity, generators will implemented.
"We may also consolidate polling stations," says Kobitz, who was in hurry because of enormous call volumes. "If our machines are up and running in the high school, but not the junior high, we'll just move everything to the high school. … We'll leave signs with directions at non-functional polling places." Other states are also hastening to prepare polling places.
Some people who can't get to the polls are also having trouble casting absentee ballots because of spotty mail service. "We know there's an election next week and we're not going to lose focus,"says Raymond Daiutolo, a spokesman for the U.S. Postal Service in southern New Jersey.
Daiutolo says USPS officials are looking into varying options to make pick-ups and deliveries possible. "In some cases, we might move the post office into a new building, or even set up tents," he says. "The situation is being evaluated on a case-by-case basis." For now, Daiutolo suggests that absentee voters who are mobile and who have access to transportation go to the nearest town with active mail service in order to cast ballots.
Before it's here, it's on the Bloomberg Terminal.
LEARN MORE