Bloomberg's Top Forecasters Predict Friday's Jobs Number
By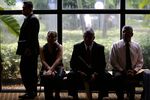 Every month, Bloomberg surveys dozens of top economists to get their prediction of the nonfarm payroll number from the previous month—the jobs number that's set to be announced tomorrow morning. Tomorrow's number stands to have more political significance than most, because it's the last one before Election Day. A surprisingly big number would presumably help President Obama; an unexpectedly disappointing one would benefit Mitt Romney by reminding voters of the slow pace of the recovery.
Of all the economists Bloomberg surveys, the top-rated forecasters—the ones whose monthly predictions have been nearest the actual numbers—are Inna Mufteeva and Thomas Julien, of the French bank Natixis. Last month, Mufteeva and Julien were a tad high: They predicted 140,000 jobs, and the actual number was 114,000 (imagine what Jack Welch would've tweeted if the number had been that big). The month before that they called for 120,000 jobs, and the announced number was 96,000, though it was later revised upward to 140,000. For Friday's number, Mufteeva and Julien are predicting 125,000 jobs, which also happens to be the consensus forecast of the Bloomberg survey.
Before it's here, it's on the Bloomberg Terminal.
LEARN MORE