With No Power, Tekserve Still Opens
By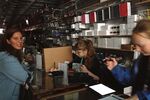 Who needs electricity? Manhattan's popular Apple reseller and repair shop Tekserve opened its dark store in Chelsea to gadget hungry customers at 11 a.m. Wednesday. With about one-quarter of its normal floor staff, Tekserve is selling Apple gear and allowing customers to pick up repaired devices or drop off ailing ones (repairs will be delayed, of course). The 25,000-square-foot store will keep 9 a.m. to 5 p.m. hours until power returns. Bloomberg Businessweek caught up with Tekserve Chief Executive Kevin Hart.
Why did you guys decide to open?
Aside from getting serviced devices up, we asked, how can we help people without power, as technologists?
Have people been coming? What do they want?
We've got a podium with a Bluetooth radio playing tunes outside. I've been handing out candy to kids who are trick-or-treating. About a dozen customers picked up their devices. An equal number are dropping them off for repairs. We've served 50-plus customers since 11 a.m., and that's without notice.
People love their devices.
It's a cult. It really is. And people are so used to them. All of a sudden you take them away, they will do anything to bring them back on.
How will you keep things going?
Tonight we'll send employees with power home to charge up the devices, then use them again tomorrow. Right now we're daisy-chaining them off existing devices. Employees are keeping devices powered with USB cables. We've probably got six to eight iPads up as a point-of-sale system with Square to take payments, four to five independent iPhones as hotspots, and a few Verizon hotspots.
Name one cool thing about working without power.
The collective ingenuity of a group of people. We started talking about it yesterday, how do you overcome the obstacle in front of you? It's like in Apollo 13, when they dumped everything on the table and said, 'This is what we have, and this is what we have to do.' That's what we did.
Before it's here, it's on the Bloomberg Terminal.
LEARN MORE