Why Buying MBA Admissions Essays Is a Bad Idea
Rose Martinelli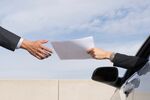 With the MBA admissions application season in full swing, I'd like to share my personal view regarding the value of buying application essays for different schools to help you craft a winning essay (aka, get admitted). Recently there has been a fair amount of buzz around a company called Wordprom—launched by two MBA graduates—which sells MBA application essays. The company offers a variety of essays composed by authors who have used them to win admission to top-tier business schools. According to Wordprom's website, these essays are meant to provide inspiration to MBA applicants as an example of successful essay responses. The reality, however, is that many of them will be misused. Let me share with you why I think purchasing essays is a bad proposition.
First, the MBA application process is not an essay-writing contest. The essay is just one component of an application that allows the admissions committee to evaluate how you respond to their prompts. MBA essay questions are dependent upon the applicant's ability to convey his or her unique perspective and story while communicating it with the institution. Using someone else's essay means you are focused on writing an essay rather than communicating your story. No one is admitted solely on a good essay, nor are they denied.
Second, schools are looking for a great deal of diversity in candidates, so trying to "fit" into what is perceived as a particular school's bias can backfire. What's important is that you present a holistic, authentic portrayal of your candidacy. Most successful applicants have not had "life-changing" experiences, but have taken advantage of the many resources and opportunities presented. Developing an awareness of yourself and others is a characteristic that most schools value in identifying successful candidates.
Third, plagiarism is a growing problem across educational institutions worldwide. Adding to the complexity of identifying plagiarism are the differing cultural norms around borrowing or copying text from original sources without proper attribution. While this is a fairly common and respected approach in a number of countries throughout the world, it is not acceptable in the U.S. Intentional or not, snippets (if not entire essays) will make it into applications this year. This is bad for students, but worse for the management education industry as business schools seek to develop ethical business leaders for the 21st century.
I remember many conversations in the past with colleagues at peer business schools regarding application questions. The process of creating effective questions each year was challenging due to the enormous amount of external guidance available to candidates about how best to approach those questions. Assessing candidates is difficult enough without this new twist. So what will be the result of Wordprom's service for admissions counselors? In addition to finding the best candidates for programs, they will now have to ferret out those who choose to plagiarize. In my opinion, that's a great shame.
Join the discussion on the Bloomberg Businessweek Business School Forum, visit us on Facebook, and follow @BWbschools on Twitter.
Before it's here, it's on the Bloomberg Terminal.
LEARN MORE