Specter Expert: A Hotel Paranormal Concierge
Eric Spitznagel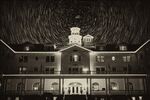 One of the first times that Lisa Nyhart, 34, stayed overnight at the Stanley Hotel in Estes Park, Colo., she didn't sleep a wink. It was during her anniversary, and she and her husband had rented a room on the hotel's infamous fourth floor, which has long been rumored to be haunted. "There was a group of kids—child ghosts, I guess—who kept poking me all night and wouldn't let me sleep," she says. "At four o'clock in the morning, when I finally started to drift off, I felt this little playful slap on my forehead. It made my husband jump." Nyhart, however, wasn't scared. "I just yelled at them, 'You guys need to let me sleep, come on,'" she remembers. "I was never afraid. They're just mischievous kids up there. Dead kids, but still—just kids."
Nyhart's ease in the company of poltergeists didn't go unnoticed by the Stanley's staff, and they soon offered her a regular position as the hotel's official Paranormal Concierge. When guests want to know where they're most likely to find spirits in the hotel, she's the authority. Nyhart leads bi-weekly ghost hunting tours of the property, which often last as long as five hours. And she is happy to provide pointers and professional ghost-detection equipment for amateur sleuths.
The Stanley is such a poltergeist hotspot that it inspired onetime guest Stephen King to write his horror classic, The Shining. But ghostly encounters aren't guaranteed. "It's rare that nothing happens," she says. Sometimes, though, ghosts just aren't in the mood to perform. "This isn't a circus," Nyhart likes to remind impatient guests. "I don't allow anybody to provoke our ghosts. That's just disrespectful. Dead people are people too."
Nyhart says that she has an excellent working relationship with all the Stanley's ghosts. "The spirits here are my friends," she says. "When I go out of town, somebody else will do the tours for me. We use something called an ovilus"—an electromagnetic speech-synthesis device used in ghost hunting—"and it'll just keep calling up my name. I'll come back and be like, 'Aww, did you guys miss me?'"
She claims to have a special connection with Lucy, the ghost of a teenage girl who died in the 1970s and who now inhabits the concert hall. "It took a few years, but I've figured out what triggers her," Nyhart says. "People have heard her singing in there, so I play music for her, and that usually draws her out. And I'll bring her candy, like Necco wafers and pixie stix, stuff like that. It never gets eaten, but I feel like she's happy that we're acknowledging her and bringing her gifts."
Nyhart's first career was as a medical assistant for a trauma surgeon, and she's always felt a special connection with the dead. "I've had (paranormal) experiences all my life," she says. "When I was growing up, I always lived in haunted houses. I thought that was normal." It took a full year of on-site training at the Stanley, which has had phantom squatters since the 1920s, before she felt qualified to accept the concierge position. "I'm still learning new things about the hotel's ghosts every day."
She has been legitimately terrified only once at the Stanley Hotel, and it wasn't because of any of the resident ghosts. "I was on a ghost hunt, on the fourth floor," she says. "All of a sudden I'm hearing these cracks and creaks in the closet behind me. And I thought, 'Oh great, here comes the ghost activity.'" But instead, the closet door burst open and out came Kane Hodder, the 6'4″ actor who played the serial killer Jason in four Friday the 13th slasher movies.
"He jumped out and grabbed me," she says. "And I screamed bloody murder." It was a prank that Hodder, a guest at the hotel, had been planning for hours, and it worked better than even he expected. "The living are definitely more scary than the dead," she says.
Before it's here, it's on the Bloomberg Terminal.
LEARN MORE