Packed Trading Week Kicks Off
by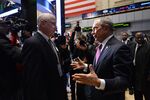 10 a.m., Oct. 31, 2012 — When New York Mayor Michael Bloomberg rang the opening bell at the New York Stock Exchange this morning, it ushered in what is likely to be one of the most concentrated weeks of activity traders have ever seen.
Market closures are rare—the last time extreme weather shuttered the markets for two consecutive days came more than a century ago, in 1888. This one, during the worst of Hurricane Sandy's assault on the East Coast, comes at an especially packed time of year.
On Friday, the U.S. Labor Department is expected to announce its monthly jobs report as scheduled, a release that reliably jolts the markets.
Earnings season is still upon us. General Motors, MasterCard, GlaxoSmithKline (GSK:LN), and others released their quarterly numbers this morning. Tomorrow, Exxon Mobil, Pfizer, Cigna, and others will follow suit; and on Friday investors will see figures from companies including McGraw-Hill and Chevron.
Because of Sandy, managers of more than 1,500 mutual funds have just one day, instead of three, to adjust portfolios before the end of their fiscal year, Bloomberg News reported today. That period typically includes a flurry of activity.
Traders will also get their first crack at reacting to news that broke during the storm, including Apple's management shakeup and Disney's $4 billion purchase of Lucasfilm, as well as make bets on companies directly affected by Sandy's damage, such as insurers and construction firms.
Oh, and Americans will elect a president on Tuesday. The markets may possibly take note of that.
—Nick Summers
Before it's here, it's on the Bloomberg Terminal.
LEARN MORE