One New Yorker's Seven-Hour Post-Sandy Commute
By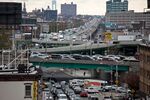 Jo'Hans Joseph knew it was going to be a bad commute into Manhattan, where he works as a hospitality and workplace services coordinator at Ernst & Young's Times Square office. That commute normally takes the Jamaica, Queens, resident less than an hour. On Wednesday, it took more than seven.
Joseph left his house just before 7 a.m. Wednesday and arrived in Times Square at 2 p.m. He told Bloomberg Businessweek his harrowing tale:
"I got up, checked the websites, and everything is saying I shouldn't go. But my wife was like, if you can find an express bus from Queens to Manhattan, make a go for it. If it doesn't work, you get off and come back. She dropped me off and I got on the QM5. It started off pretty good. The first 10 minutes of the commute, everything is great. I'm feeling good, like maybe this is not a bad decision, so I text my boss to let him know I am going to brave it. As soon as we get on the highway, it's a standstill for like four hours.
"The driver won't let anyone off. People are getting really upset. People want to fight with him. It was just insanity to keep a little bit of peace. He said, when we get off the highway, at his first stop, he'll let us off. It took another hour and a half from the exit ramp to get to the first light to turn where he let off half the bus. We were making minimal progress. One lady got really upset and started to curse him out, like there was no tomorrow. That's when he said, everybody get out. He let us off under the L.I.E.
"We flagged down the next bus, the QM4. It took forever to just inch our way over the bridge. By the time we got into Manhattan, I doubt we even hit 20 miles per hour. I was like, I am close enough to 42nd Street, I am going to walk the rest.
"It was just one of those extremely long days. I could have taken my bike and done it in 90 minutes if I really wanted to press the issue. The only reason I went for it is they said the express lines were working. Tomorrow, if I don't hear differently about how the routes are, I am staying home."
Before it's here, it's on the Bloomberg Terminal.
LEARN MORE