New Yorkers Grapple With 'Charge-pocalypse'
By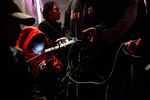 For the device-dependent, the most frightening thing about a blackout is having to unplug: no e-mail, no texts, no social media, no Words With Friends. On Tuesday morning, about 780,000 Con Ed customers in New York City, including 250,000 in Manhattan, did not have electricity, according to the utility company. By 5 p.m., news reports indicated that lower Manhattan could face up to four days without power.
Resourceful New Yorkers found creative ways to cope. Here are some stories from Twitter (with the occasional typo):
• Setting up "public" charging hubs in the street. Film producer Josh Folan tweeted this picture of a makeshift charging station in Manhattan with the description "Cell phone-charging hub at the 40th St power cutoff – a power strip plugged into a sidewalk outlet."
• Recharging at local businesses, including hotels and restaurants. Chef and television personality Andrew Zimmern tweeted: "Friends who live downtown walked miles up to my hotel for a shower and phone charging opportunity. Everything below 40th street is a mess." Speaker and life coach Barbara Clark tweeted from Staten Island: "Found a liquor store open and they let me re charge my phone."
• Crossing boroughs by foot. Awake actor B.D. Wong tweeted: "Walking over Wmsbrg bridge to charge my phone w/droves of Manhattanites doing same."
• Car charging: It might not even be your own device. A New Yorker who goes by Jay See on Twitter wrote: "Someone on the street jus asked me if she can charge her phone in my car."
Before it's here, it's on the Bloomberg Terminal.
LEARN MORE