JPMorgan's Bisignano: "We're in the Sixth Inning"
By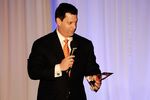 As Wall Street wrung out its banker-collared shirts and surveyed Hurricane Sandy's damage on Wednesday, JPMorgan co-chief operating officer Frank Bisignano said the company was close to being fully operational.
"I think when you get to Monday, you'll have a firm fundamentally at 100 percent," he said. "We've got to get through today and tonight. I feel like we're in the sixth inning right now."
Bisignano, who became JPMorgan's co-COO in July after heading its mortgage banking businesses, spent the morning touring the bank's commercial branches and larger facilities. About 50 percent of employees were in those buildings, he said, and some 20,000 were working remotely.
"Our facilities aren't suffering tremendous water damage," Bisignano said. "Our branches are. We have 10 branches, approximately, that are lost because they were just in the areas of devastation." The bank was in the process of distributing 150 generators to branches in the tri-state area, he said.
The landmark One Chase Manhattan Plaza, in New York City's Zone A flood area, is closed but in "fabulous shape," he said.
Bisignano's circuit also took him to the floor of the New York Stock Exchange, where he said an official described an epic five-and-a-half-hour commute from Long Island to the trading floor.
How does Sandy's destruction compare with other disasters the company has seen over the years? "What I would say is that 9/11 had devastation we'll never see again," Bisignano said. "For New Yorkers, this'll be No. 2."